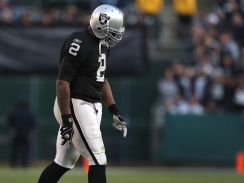 Bobby Lemaire, Staff Writer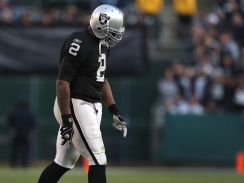 The 2006 Oakland Raiders were one of the worst teams in NFL history. They finished an embarrassing 2-14, and were "rewarded" with the first overall pick in the 2007 NFL draft. While there were many noticeable deficiencies in this lineup, the biggest issue was clearly at the quarterback position. The 16 games were split evenly between Aaron Brooks and Andrew Walter, both who threw more interceptions than touchdowns. So, with the first overall pick, the Oakland Raiders selected JaMarcus Russell, a quarterback out of Louisiana State University.
In the last year of his college career, Russell's stats were phenomenal. He completed over 67 percent of his passes, while throwing 28 touchdowns to only eight interceptions. Al Davis, the late Raiders owner decided that Russell was the man to bring the Raiders back to a "Commitment to Excellence."
Russell never achieved the success that was expected from him. In fact, he was out of football just three years after being drafted. During his three year career, Russell amassed a 7-18 record, while throwing only 18 touchdowns and 22 interceptions. But even worse, he lost 22 fumbles. He also had a career QB rating of 65.2. I was "lucky" enough to see Russell play in person. On October 11, 2009, the Raiders travelled to New Jersey to face the New York Giants in a regular season matchup. The lowly Raiders lost 44-7 and Russell was absolutely abysmal. While the Raiders defense did not help his cause, Russell's three lost fumbles never gave the Raiders a chance to compete.
Another reason why Russell was the biggest draft bust of all time was his poor work ethic, which everyone could see. During his time in Oakland, his weight was always an issue. He was always around 280 pounds or higher and looked like he belonged on the offensive line. Whenever he threw an interception or fumbled, he just stood there and watched the defensive player run right by him, without an effort to chase after him.
After the 2009 season, the Raiders finally had enough and let Russell go. He has been out of football since then, but has publicly stated recently that he was attempting to make a comeback, with the help of former NFL quarterback Jeff Garcia. Videos of Garcia teaching Russell plays and the right way to execute plays at the position have been put up.
As a Raiders fan, the worst part is looking at the 2007 NFL Draft and seeing who the Raiders missed because they took Russell. The next pick after Russell was Calvin Johnson. Yes, Calvin Johnson. The best wide receiver in football. Then, with the seventh pick, the Minnesota Vikings selected running back Adrian Peterson, who this past season, was just a few yards short of breaking the single season rushing record. Then, with the 14th pick, the New York Jets selected cornerback Darrelle Revis, who is consistently one of the best defensive players in football.
With all the negative aspects that Jamarcus Russell brought to the Raiders, it is clear that Russell is the biggest draft bust in history.

Anthony Beers, Staff Writer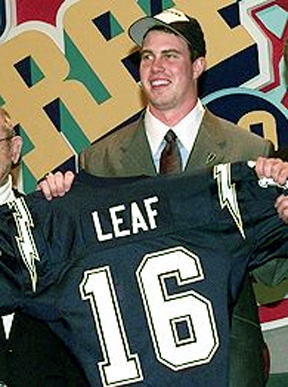 The biggest draft bust in the history of the NFL is quarterback Ryan Leaf. In the 1998 draft, Leaf was coming off a college season as a junior that had him competing as a finalist for the Heisman. Leaf had led the Washington State Cougars to the Rose Bowl in a disappointing loss to Michigan, but it was the Cougars first Rose Bowl appearance since 1931. His numbers were also highly impressive with 3,968 passing yards, 34 touchdown passes and a dominant quarterback rating of 158.7. Leaf lost the Heisman to defensive back Charles Woodson (who was coincidentally a Michigan Wolverine and beat the Cougars in the Rose Bowl), but declared himself eligible for the draft at the conclusion of his junior season.
Leaf was highly coveted going into the NFL draft and had a chance to be selected number one overall, but after missing his meeting with the Indianapolis Colts, the number one pick went to future hall of famer Peyton Manning. The Chargers took Leaf second overall in the draft and signed him to a four-year contract worth $31.25 million, and an $11.25 million guaranteed signing bonus, which at the time was a record. Leaf's reputation started off poorly as he would often skip practice to play golf and was quickly known around the Chargers for thinking very highly of himself. Leaf's attitude problems transcribed to football problems after he had an extremely dismal rookie season. He threw for a mere two touchdown passes with 15 interceptions his rookie season and only played ten games before he got benched. Leaf wanted to turn his NFL future around but his poor work ethic and lack of commitment to improve his game ultimately resulted in him completely giving up on his success as a football player. Leaf's immaturity eventually put him in a place much worse than a struggling quarterback's.
Following his retirement in 2001, (which included a stunt with the Buccaneers and Cowboys), Leaf had an addiction problem to controlled substances like pills and pain killers. Leaf got in trouble for his addiction on numerous occasions, in 2008 at West Texas A&M he was forced to resign after asking a player for pain killers that would help him with his "old wrist injury." Since then Leaf's addiction led to him attempted burglaries, and landed him in a drug treatment center. However, this past January, he was moved from the drug rehabilitation program to federal prison.
Ryan Leaf's life has become a very sad story, and one can only wonder if his true potential as a quarterback was ever truly sought. Leaf was voted "the number one bust of all time," on the NFL Network.
Justin Lovell, Sports Editor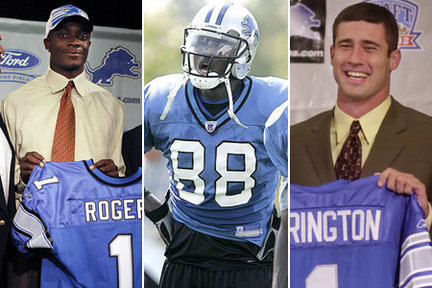 When it comes to the biggest NFL draft busts ever, certain names always come to mind. Obviously Jamarcus Russell and Ryan Leaf are no brainers, followed by Tim Couch and a few others. For me, one group in particular stands alone. From 2002-2005, the Detroit Lions made four draft picks in succession that go down as a whole as the worst draft picks ever.
In 2002 with the third overall pick, it was Joey Harrington, quarterback from Oregon. Harrington was supposed to be the answer at quarterback for the lonely Lions, however after six seasons in the Motor city, the Lions and Harrington parted ways. During the six years, the team never sniffed a winning record and Harrington only managed to pass for more than 3,000 yards
and had more touchdowns than interceptions just once.
In 2003 with the second overall pick, Charles Rogers, wide receiver from Michigan State was taken to help Harrington. Rogers started his career bright, but quickly faded following multiple injuries and substance abuse violations. In 2006, he was released from the team and never again stepped on an NFL field. In subsequent years, the former first round pick has had numerous encounters with the law, for both drug and alcohol problems.
Roy Williams, wide receiver from Texas, was the seventh overall pick in the 2004 NFL draft. Williams was drafted to be the man next to Rogers for years and with Harrington would make a dynamic threesome. Williams was by far the most successful of all the picks, even making the Pro Bowl in 2006. However, by 2008, when the Lions had realized all their mistakes via the draft and again wanted to rebuild, they shipped Williams off to the Dallas Cowboys for draft picks and by 2011, the wideout had retired from the league.
The last member of this less than fantastic foursome the Lions drafted was Mike Williams in 2005. In one of the most bizarre draft moves made in NFL history, the Lions, for the third time in three years, take a receiver with their first round pick. Williams was taken tenth overall, even though he hadn't played the entire season before because of a NCAA ruling of him being ineligible. The Lions hoped to strike gold but again wound up with a dud. By 2007, Williams was shipped off to the Oakland Raiders and today currently is no longer in the NFL.
In hindsight, it is clear the Lions didn't make the right picks those years but at the time, they all looked like great choices, except the Mike Williams one. Luckily for Lions fans though, the team is finally getting on the right track. They again drafted a receiver in 2007, but got it spot on when they took Calvin Johnson, the best wideout in the game today. Then in 2009 they took Matt Stafford, a quarterback, who is just the fourth QB to ever throw 5,000 yards in a season. However, with the good comes the bad and the Lions know that bad all too well. That is why I believe the 2002-2005 draft choices of the Lions are the biggest busts in NFL history.