Alex Fredkin, Arts Editor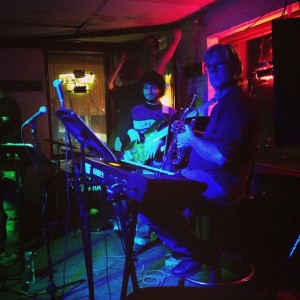 SUNY Oneonta students are accustomed to being entertained by the SUCO Funk Band every month, but on Wednesday, April 10, the group brought something different to the table. Led by keyboardist and Oneonta professor Jeremy Wall, the band's performances in town have become a staple of the college's music scene. The band is known for bringing back some of the best funk songs of the 70s, as well as putting their own spin on more contemporary songs.
They played classics such as Tower of Power's "What is Hip," and Stevie Wonder's "Living for the City." The eight-member collective includes the traditional vocalist, guitarist, bassist and drummer, but adds to that mix with a solid brass section comprised of saxophone, trumpet and trombone, as well as keyboards provided by Wall himself.
To differentiate this performance from the others, professional singer Susan D was brought in to coach funk band singer Ryan Quinn, as well as four more of the college's best vocalists, who all performed during the event. Susan D has performed with bands such as Spyro Gyra and Cracked Ice.
Her and Wall held a Pop Vocal Master Class in Fine Arts 212 the day of the event. The five singers all practiced a song, and Susan D critiqued their performances. Susan D's advice was geared more towards performance. She helped bring out the best in each singer and allowed them to reach their potential on stage. She stressed that each entertainer "make the songs your own" and that in order to have an impactful performance they must "connect with the audience." Finding the singer's own personal meaning in the song was another element she stressed in order to create a memorable performance.
In the case of Quinn's piece (he sang "Don't You Worry 'Bout a Thing" by Stevie Wonder) Susan D was able to get him to open up by being more animated with his movements and by making more direct eye contact with members of the audience. Although some of her techniques seemed silly or unnecessary at first, it was clear that her advice allowed the performers to have more fun on stage. The energy of each became palpable and translated into a more meaningful performance from as a result.
Susan D showcased her own talents during the night-time performance, and provided supporting vocals to Quinn on a few songs. The funk band played their hearts out to a packed Black Oak Tavern crowd.
One of the strong points of the band is their ability to improvise each song. As each member of the octet weaves in and out of the rehearsed performance, no member ever falters, and they all hit the main points of the song on target each time. Audience members danced and grooved all night long as the funk band selflessly shared their many talents with the crowd at hand.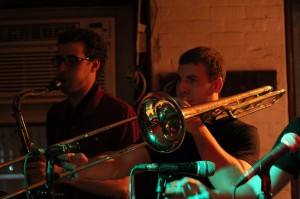 Highlights of the night included the New Orleans jam "Hey Pocky Way," and a new song for the band, Marvin Gaye's sexual masterpiece "Let's Get it On."
While the band plays classic soul and funk tunes spot on, they may be even better at putting that flavor into songs that aren't traditionally funk tunes. They do a fantastic rendition of "Whipping Post" by the Allman Brothers. Starting with that heavy bass riff, joined by a chorus of aching guitars, and wrapped up with the most soulful of vocals, "Whipping Post" is a gritty track, and the funk band's performance of it made everyone waiting for Stevie Wonder or Marvin Gaye do a double-take.
The variation in the set list was appreciated by all, and the crowd favorite was none other than Cee Lo Green's "Fuck You!" Everyone can relate to seeing a guy or a girl they like being taken by someone else, and the Black Oak's crowd all enthusiastically joined in to yell out everyone's favorite four letter word – when appropriate.
The funk band proved once again that they are one of the main attractions in Oneonta, and anyone looking to see some live music should put the band at the top of their list. The beauty of funk night is seeing a bar full of people who all came to enjoy some classic songs. While many complain at the lack of variation in music today or that it isn't as good as it used to be, it is refreshing to see so many people come out to enjoy some of the great funk songs of the past. If you missed this last performance, you might think about celebrating Cinco de Mayo with the SUCO funk band; their last performance of the year is on May 5.