Justin Lovell, Sports Editor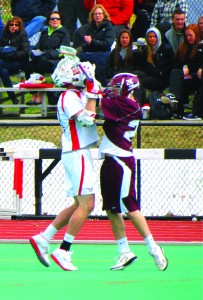 Last Saturday, the men's lacrosse team was able to beat Potsdam with a score of 5-4. The women lost a heartbreaker to Fredonia, 11-10. The Red Dragon men, lead by Jim van de Veerdont and his two goals, were able to secure their first SUNYAC win this season over the Bears. Goalie, Chris Miles made 12 saves in the game and had a goalless fourth to give Oneonta the victory.
On the women's side, the Red Dragons fell just short of handing the Blue Devils of Fredonia their first loss of the season. Nikki Floretti and Jillian Donodeo each scored three goals for Oneonta. For the men, they currently stand at 3-9 overall and only 1-3 in conference play, while the women are 7-6 overall and 2-3 in the conference.
Both teams will be in action this weekend, as the men travel to Oswego State and the women square off at home against SUNY Geneseo.