Marielle Genovesi, Staff Writer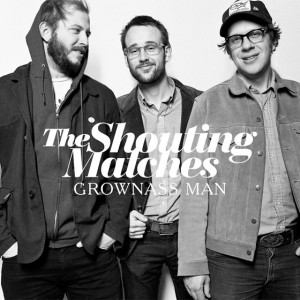 Justin Vernon is known by most for his work under the Grammy-Award winning, American folk-indie band Bon Iver he founded in 2007. A band that so quickly climbed to fame after the release of their latest album, "Bon Iver" that Vernon recently expressed a desire to step out of the spot light, and to "walk away" from his work under Bon Iver for a while.
Followers of the band wondered if they would hear anything from Justin Vernon again for a long time, and the answer is, yes. It seems that he was not taking a musical hiatus at all. Vernon makes his musical return, not only with a different band, but also within another music genre completely.
His newly released album "Grownass Man" sees a reunion with old pals Brian Moen and Phil Cook as a blues-rock trio called The Shouting Matches. Although the side-project has seemingly come out of nowhere, the group actually was founded pre-Bon Iver, in 2005. It appears that it has been just that, an album to be viewed just by its album cover (a photo of the three men with smiles on their faces) as music unalike the serious, soft harmonies and falsettos of Bon Iver, and more similar to the riffs and jams of bands like Wilco, and lyrics that seem a relative of Tom Petty.
Vernon is really just having fun making this kind of music, and it's totally apparent to listeners. The opening track, "Avery Hill" sports some loose guitar work, and a rhythm that has you tapping your foot and nodding your head, and perhaps even finding a sudden desire to go for a summer drive with all the windows down. The gritty, crying vocals of "Heaven Knows" (so different from anything you expected from Vernon's vocal pipes) not only surprise you, but make you want to sing, or even moan (soulfully) along. The fourth track; "Mother, When?" is a fast pace, organ-driven tune, and it's exactly what you're looking for if you want to blow off some steam and jump around to some tunes for a bit.
It is admittedly difficult to choose favorites when comparing a collection of songs that have such infectious rhythms, great vocals and fantastic guitar work. A favorite of the album, especially for those who are still searching for Vernon's softer vocals again, might be the closing song "I Need a Change," a serenading croon about moving on – for those of you looking to heal your heart.
The unexpected blues-rock album is released everywhere on April the 16, and it has arrived just in time for the warm weather and sunshine. Just give it a listen while enjoying some cold drinks in the yard with good friends – just the way Vernon would expect it to be listened to.