Danielle Rennard, Staff Writer
Are things getting boring for you in the bedroom? If so, Kama Sutra may be the answer to spice up your sex life. With over one hundred options to choose from, you are sure to find sexy, pleasurable, fun and definitely interesting Kama Sutra positions.
Kama Sutra is an ancient Indian Sanskrit exposition that lists and describes the basic rules to having a sensuous solely physical or romantic relationship between partners, according to Hindu law. The Indian scholar, Mallanaga Vatsyayana, is believed to have written these rules down some time during the 3rd century. Due to the numerous scholars and authors around the world that have translated the Kama Sutra, its popularity has been rapidly increasing.
Many believe that Kama Sutra is only a guide for athletic sexual positions, but this is highly untrue. Besides the vast amount of historical importance it holds, it is also a guide towards satisfaction and sexual fantasy. According to the text, the three main goals in an individual's life are Dharma, Arta and Kama, which mean responsibility and duty for actions, gaining power from wealth, politics and pleasure. This is where the name Kama Sutra is derived from because the positions explained are meant to create pleasure.
Ari Saati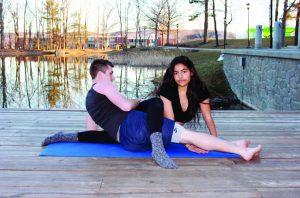 Reverse Spoon
If you are ambitious and want to challenge yourself and your partner, you may want to try all of the positions to see which ones you both get the most pleasure out of. But if you're looking just to try a few and see how you like them, consider the Reverse Spoon, Doggie Style and Raised Missionary.
The reverse spoon may sound complicated at first, but once you get the hang of it you will be begging for more. Simply both people lie on their sides facing each other but laying head to feet. The woman places her top leg over the man and the man leans forward to enter the woman.
If that doesn't sound appealing to you, you might want to try the Doggie Style position. As well as being one of the more well-known Kama Sutra positions, it is a total favorite. As the woman is on her knees the man enters from behind. This position allows for great penetration, however it is somewhat impersonal.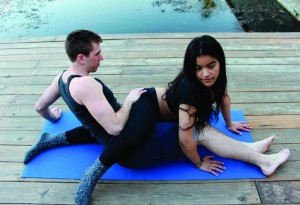 Lastly, the Raised Missionary starts with the woman lying on the bed with her feet, on the edge. The man will stand between her legs and using her feet the woman raises up her lower half. Although this unique position is slightly more physically demanding, it gives the man a different angle of entry.
Now you may be wondering why people would do these positions rather than the standard missionary position. The main reason is that it brings you and your partner closer together! Some positions are fairly easy while others are extremely difficult, which will most likely lead to mistakes being made. Therefore, the process of laughing it off and figuring out what to do will bring you both closer than ever before. Also, trying something new is always fun in sexual relationships and your partner will love that you are trying new things to please them even more.
Now that you know about Kama Sutra, go try it out! Explore new things with your partner and if you aren't interested in the sex positions listed, feel free to check them all out online.