Bobby Lemaire, Staff Writer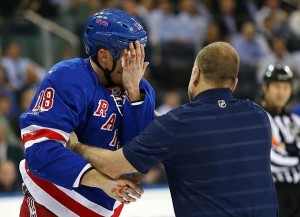 On Tuesday March 5, the New York Rangers hosted the Philadelphia Flyers at Madison Square Garden, for what should have been a great divisional game. However, during the third period, with the Rangers leading 3-2, the rowdy Ranger crowd was brought to complete silence, on what turned out to be one of the scariest moments to take place on the ice in recent memory.
With 5:45 into the third period, the Senators had control of the puck in the Rangers defensive zone. Flyers defenseman Kimmo Timomen shot the puck from the point, which was deflected by Flyers forward Jakob Voracek, striking Rangers defenseman Marc Staal in the eye. Staal, who is one of the league's best defenseman, does not wear a visor and immediately fell to the ice, squirming in obvious pain. While you could see the blood on his hand that was covering his eye, Staal got up like the hockey player he is and skated off the ice under his own power, to a standing ovation from the Garden faithful.
Staal will be out for the foreseeable future, but the good news is that this injury will not have long term impact on his vision, or force him to retire.
This injury brings up a long argued debate amongst hockey fans, going back through the last 20 years. Should wearing a visor on your helmet be mandatory? While Staal will be able to comeback from this setback, there have been many players who have gotten hit in the eye that have not been as lucky. In 2000, Toronto Maple Leafs defenseman Bryan Berard was clipped by the stick of then Ottawa Senators forward Marian Hossa. Berard suffered a retinal tear and a detached retina. Even though he was able to return to the NHL a year later, Berard was never the same player.
With all of the major sporting leagues trying to focus on player safety, I do believe that visors should become mandatory for hockey players, but not right away. There was a similar issue argued in the NHL, regarding whether or not helmets should be mandatory. In 1979, the NHL made a rule that stated helmets would become mandatory for player safety, but there was a catch. If you were already an NHL player who did not wear a helmet, then you did not have to. It meant from that point on, all rookies would need helmets and would eventually lead to all of the players wearing helmets. This was known as the "Grandfather Clause." The last person to play without a helmet was forward Craig Mactavish in the 1996-1997 season.
I believe the NHL should follow the same format for visor use. If you have played in the league for 15 years without a visor, it just wouldn't be fair if all of a sudden you were forced to wear one. For example, Lightning forward Vincent Lecavalier has been in the league for 14 years and has never worn a visor. If he has felt comfortable his whole career without one, it would not be fair to force him into wearing a visor. When a player plays in the minor leagues of the NHL (AHL or ECHL), visors are already mandatory, so if they make it to the pros, being forced to wear a visor would not have such an extravagant impact on how they see the game. It would just be a smart move if the NHL started enforcing the mandatory use of visors.