Alex Fredkin, Arts Editor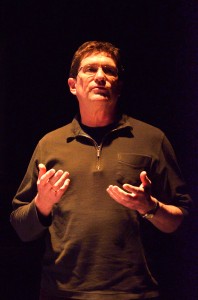 New Music Focus Week is an annual four-day event which showcases new and experimental music. It is an event which challenges students to think outside the boundaries of what music really is. It was started by SUNY Oneonta professor Julie Licata four years ago, and was held this year in the Hamblin Theater from March 11 to the 14. Licata says she started the event because "There are numerous composers on our faculty, and I wanted to showcase them." Most of the professors in the SUNY Oneonta music department perform on their own when they are not teaching, and during New Music Focus Week they get to showcase their talents.
The event is not limited to just the faculty of SUNY Oneonta though. Every year a special composer is brought in as the resident composer of the week. This year, Cort Lippe held that honor. Licata says Lippe was chosen because "He is one of the initial authors of Max/MSP, and a leading figure in interactive computer music." She went on to say that he also is a mentor of one of the department's own faculty, professor Brett Masteller.
Lippe appreciates the marriage of acoustic instrumentation and electronic computers and has dedicated his life work to making this partnership as organic as possible. Lippe says "I mainly compose music that is for acoustic instruments and interactive computer systems." He explains that "There's an electronic part that comes out of a computer, but the performer has some control over that." Lippe believes this affords more variety than other systems that reproduce music electronically but only use sampled sounds that are prerecorded. The program he helped create, Max/MSP, changes live sound in a variety of ways, using effects such as delay, echo and feedback, to ensure that what comes out of the computer is always different.
Lippe says that he's "interested in the whole idea of the performer being able to interact with a machine and do something that is musical to them." During New Music Focus Week, the many uses of this program and inspirations from its revolutionary ideas were on full display. On Monday, technological demonstrations were held along with discussions on the ways that technology can extend music making. Tuesday was the faculty recital, featuring experimental compositions from many professors of the music department. Wednesday's performance featured the works of Lippe being performed the founder of the event, Julie Licata, and even a student of the school's, Eugene Gardner. And the last day of the event, Thursday, featured a performance by Lippe himself with atom3, an electronic music ensemble.
Although Lippe's work is mainly focused with electronics, he believes there will always be a place for live instruments. The point of his work is not to eradicate live music, it is the opposite – to augment it. He says "The integration of computers into live performance will continue, and maybe become more flexible." He sees the world today where performers use computers in-concert and only sees this pairing getting more usage and becoming easier to manage. Music is an art form that constantly changes, and Lippe's contributions certainly add to the vast world of organized sound that we call music.