Richie Feathers, Staff Writer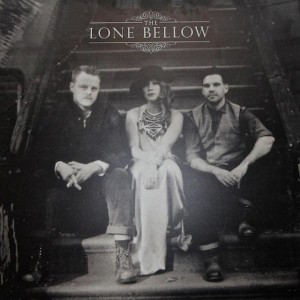 In any genre, the most effective songs are the ones written from our deepest emotions. Some artists write to escape these emotions, while others just want to understand them better. But the majority of The Lone Bellow's eponymous debut was written by lead singer Zach Williams, who was trying to cope after an accident left his wife paralyzed from the neck down. Although she eventually recovered, many of the songs here take on his perspective as a grieving husband, hopeful but unsure.
Williams, who also plays guitar, leads the group alongside Kanene Pipkin's mandolin and vocal talents and Brian Elmquist, who also plays guitar and sings. And having created a surprisingly warm album despite its fragile themes, this Brooklyn trio works wonderfully together. With gorgeous, three-part harmonies The Lone Bellow at once recalls a hybrid of Lady Antebellum and The Head and the Heart, but like that exact combination, they don't belong to any specific genre.
While upon first listen it's easy to point out the guitar twang and violin melodies that would label them a country band, other tracks like "Tree to Grow" find them indulging in gentle folk. "Tree to Grow" in fact is the album's standout as Williams repeatedly promises to his wife, "I'll never leave, I'll always stay / I swear on all that I keep safe," while this chugging folk groove builds and builds into a powerful, emotional climax that transcends any one genre that The Lone Bellow may bring to mind. When it hits you're completely swept away as he confides, "but it gets harder and harder."
Elsewhere, the group even dabbles in indie rock on the highlight "Bleeding Out," while the driving opener "Green Eyes and a Heart of Gold" finds optimism at new heights as the trio assures, "All our money's gone and the house is cold / and it's alright, it's alright." It's an excellent glimpse at being a young twenty-something, not just in New York City, but in America.
Another standout is the beautiful, piano-driven "You Never Need Nobody." The lead single off the album, this gospel-tinged love song is all it takes to be hooked on The Lone Bellow. And when balanced with other tracks like "You Can Be All Kinds of Emotional" that sound ripped from the country charts and the sing-along, folk harmonies of "Teach Me to Know," this debut is as intoxicating as it is emotional.
Although not all the tracks deal with the accident, each song on the album has its own share of heart and conviction, making it all the easier to enjoy just about everything, no matter the style. What's so interesting about "The Lone Bellow" though is that it sounds so familiar yet still refreshing. While the trio doesn't offer anything particularly innovative, they certainly stand out among an immensely talented crowd of similar acts, new and old. And their debut is fully enveloping in its passion, its comfort and, yes, its emotion.

Key Tracks: "Tree to Grow,"
"You Never Need Nobody,"
"You Can Be All Kinds of Emotional"
Grade: B+