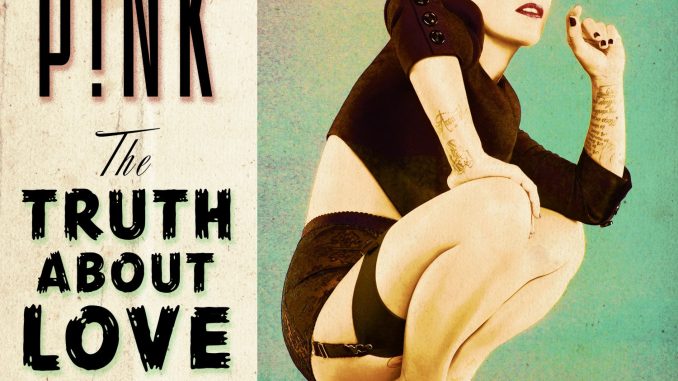 Although it has been four years since "Funhouse," Pink has still been keeping herself busy. Aside from releasing a greatest hits album in 2010 that introduced the massive hits "Raise Your Glass" and "Fuckin' Perfect," she also restored her marriage with husband Carey Hart and had a daughter. This would give any artist the need to take a hiatus, but Pink used the time to soak up life as a happy wife and mother, giving her plenty of new material to use as a writer. Returning with the aptly titled "The Truth About Love," she is a noticeably changed person and artist. At 33 years old, Pink, born Alecia Moore, unsurprisingly tackles numerous issues on the new album, but none are as prominent as her newfound knowledge of what it means to feel, give and be in love.
The excellent title track plays as a checklist of all the things to expect from being in a relationship ("the truth about love is it's blood and it's guts… sandwiches without the crust"), while "Just Give Me a Reason," a duet with fun.'s Nate Ruess, is a conversation between a woman who feels her love is waning and a man who assures her that it's all in her head.
Elsewhere, the ballad "Beam Me Up" deals with the loss of a child. Co-written by the same man who had a hand in past songs such as the similarly profound "Crystal Ball" and unforgettable single "Stupid Girls," this track provides a great break from the heavily-pop first half.
Pink also further experiments with rock in songs like the powerful, 99 percent-inspired opener and the clever "How Come You're Not Here." But it's "Slut Like You" where this rock-pop hybrid works best. Described as her admittedly dirty form of feminism, this track explodes with contagious energy, raunchy lyrics and a fun bridge that only she could pull off. Yet, with all this proof that Pink is actually growing up, she still hasn't lost much of that inner fire she had as the young, fun artist when her career began. "Walk of Shame" is a near-harmless song about exactly what the title infers and "True Love" is shamelessly straight, sunny bubblegum pop featuring Lily Allen. In fact, the only real noticeable flaw of the album is the clunky "Here Comes the Weekend" which feels out of place in both song sequence and musical pace. Placed near the end of the record, this track disrupts the otherwise decent flow of it, making it stick out in a negative way. But this misstep is forgiven with the beautiful album closer "The Great Escape," reminiscent of the 2008 highlight "Glitter In the Air."
Continuing to prove Pink's at the top of her game, "The Truth About Love" shows that pop music nowadays doesn't have to be hollow and uninspired; six albums in and she's just as sincere as ever.
Key Tracks: "The Great Escape," "Slut Like You," "Beam Me Up"
Grade: B+