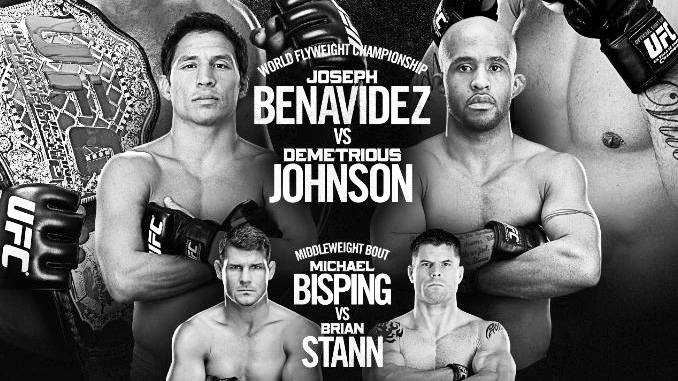 Sean Murphy, Staff Writer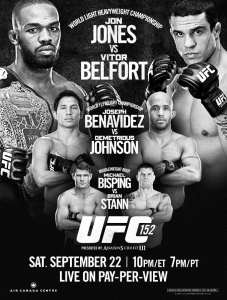 From the chaos and injuries that led to the first cancellation of an Ultimate Fighting Championship event in recent history, UFC 152 from Toronto emerges from the ashes as one of the most stacked cards of the year. The Air Canada centre will host two world title fights and a pivotal middleweight bout on Saturday, September 22. In the main event, UFC light heavyweight champion Jon Jones takes on former light heavyweight champion and middleweight contender Vitor Belfort. Belfort comes in as a late replacement for top contender Dan Henderson, in a fight that was originally scheduled to take place a few weeks ago at UFC 151. In the co-main event of the evening, the UFC will crown its first ever flyweight (125 lbs) champion in a match between top contenders Joseph Benavidez and Demetrious Johnson. Before that takes place, we will witness a match-up of top middleweights featuring Michael Bisping against the United States Marine, Brian Stann.
Middleweight Bout (185 lbs)
Bisping (22-4) vs. Stann (12-4)
In a division that has long been dominated by reigning champion Anderson Silva, the winner of this bout could serve as a fresh challenger for the firmly occupied middleweight throne. Stann is coming off a technical knockout win over Alessio Sakara, while Bisping is coming off of a very narrow decision loss to former middleweight contender Chael Sonnen. While Bisping is coming off of a loss, many people thought the decision could have easily gone in his favor with his gutsy performance.
Bisping is the more well-rounded fighter in this contest. While he's not known for his punching power, Bisping has crisp kickboxing and decent wrestling that he mixes together very well. He also has the grappling advantage in this fight. "The Count" has never been submitted in his professional career and Stann does not have the ground game to accomplish that feat quite yet. The one thing he lacks that Stann possesses plenty of is knockout power. Brian Stann hits very hard, as displayed by his TKO wins over Jorge Santiago, Alessio Sakara and the ultra-durable Chris Leben. Stann's best chance at winning this fight will be putting Bisping away early with big shots. While his grappling is ever-improving, he is not on the same level as Bisping in that department. If "All American" can keep this fight upright, he has a good chance of knocking out Bisping, much like Dan Henderson did at UFC 100. He needs to cut off the ring and slow Bispings footwork in order to land that big shot. Bisping needs to avoid the power of Stann at all costs. Look for him to use his crisp counter-striking mixed in with the occasional takedown. He simply does not have the kind of power to take Stann out with one shot on the feet. While he has great submissions, I do not see him being able to submit Stann on the ground. If Bisping successfully avoids the power of Stann, this fight will most likely see the judge's scorecards.
Pick: Bisping will survive some big shots early in the fight to come back and take a close decision over the American.
(Bisping by split decision)
Inaugural Flyweight Title Bout (125 lbs)
Joseph Benavidez (16-2) vs. Demeterious Johnson (15-2-1)
Don't blink when it comes to fights in the Flyweight division. The UFC's newest division has produced nothing but exciting fights in its short existence and I expect nothing less at UFC 152. Both Johnson and Benavidez have fought for the title before, at a weight class up at 135 lbs. Although both were defeated by current Bantamweight champion Dominick Cruz, they now face off for gold in a division more fitting to their natural weight and size.
Johnson may very well be the fastest fighter in the UFC today. He mixes his boxing with lightning fast takedowns and is riding high off a decision win against world ranked Ian McCall. On the other side of the coin is Benavidez, is coming off a brutal knockout win against Shooto import Yashuhiro Urishitani. To put it simply, I see Johnson as a considerable underdog in this fight. Benavidez has excellent wrestling, a potent submission game and very heavy hands. The Team Alpha Male product is on another another level in just about all aspects of the fight game. The only true advantage Johnson has in this fight is his speed and slightly superior technical boxing. Despite dropping down to flyweight, "Mighty Mouse" is still a very small fighter at 5'3". He will give up the strength and size advantage to his opponent in this fight. Benavidez was arguably the number two bantamweight in the world for quite some time. He now finds himself in a division where his opponents no longer vastly outsize him. In order for Johnson to win this fight, he must mix up his strikes with lightning fast takedowns and strong top control. If he chooses to stand and trade blows with Benavidez for too long, he could find himself staring up at the lights from the canvas. He simply does not have the tools to finish Benavidez, a feat that nobody has accomplished so far. For years, people considered Benavidez the uncrowned flyweight champion of the UFC. I believe he will find his crown and achieve UFC gold on Saturday night.
Pick: Benavidez will neutralize the takedowns of Johnson en route to a fourth round submission via his patented Guillotine choke (Benavidez by submission in round 4)
Light Heavyweight Title Bout (205 lbs)
Jon Jones (16-1 Champion) vs. Vitor Belfort (29-9)
Since his effortless submission victory over Ryan Bader at UFC 126, Jones has looked nearly invincible. The Champ has defeated a plethora of top-flight light heavyweights, including former champions Mauricio Rua, Quinton Jackson, Lyoto Machida and Rashad Evans. Jones may very well be one of the best fighters in the world today, and at 25 years young, he is just hitting his prime. In his ten UFC victories, only three have gone to the judge's scorecards.
"Bones" is excellent at using his massive 88-inch reach to keep his opponents out of range all together. He is also a decorated amateur wrestler with an extremely dangerous submission game. Four of Jones' ten UFC wins have come by way of submission. He has also shown very advanced and devastating striking techniques, for an example of this, look no further than his devastating spinning elbow against Stephan Bonnar at UFC 94. In all of his UFC fights, Jones has excelled at using his powerful wrestling in reverse. He has never been taken down in any of his fights, and Belfort does not have the kind of pedigree to threaten him in that realm. Jones is coming off of a clear-cut unanimous decision over rival Rashad Evans at UFC 145, while Belfort is coming off of a submission win over an overweight Anthony Johnson at UFC 142.
What should be noted here is that Belfort is taking this fight on very short notice in place of former pride champ Dan Henderson. He is also moving up from 185 lbs, to 205 lbs, to take on the reigning champion. "The Phenom's" best asset in this fight is his knockout power and excellent hand speed. If he manages to hurt Jones early, he absolutely must put him away. Belfort excels at rushing in and finishing his opponents when he has them hurt. This is evident in his absolute destruction of Japanese star Yoshihiro Akiyama at UFC 133. He also must figure out how to get inside the range of Jones, or he will be eating punches and kicks from the outside all night long. While he is a black belt in Brazilian Jiu Jitsu, Belfort simply does not have the wrestling chops to get Jones to the ground. Power wrestlers Matt Hammill and Ryan Bader had no such success in taking Jones down, and both are much larger than Belfort. Jones has just about every advantage in this fight.
The only thing he must be wary of is the speed and power of Belfort, especially early on. Being the much larger man on fight night and possessing excellent takedowns, Jones will have no problem working Belfort to the canvas. This is where I believe the champion will end the fight in brutal fashion. Belfort may have nothing to lose by taking this fight on such short notice, but the young and hungry champion will defeat him.
Pick: Jones will not play the striking game with Belfort for too long. Look for him to switch to his wrestling and finish Belfort on the ground via TKO in the third round.
(Jones by technical knockout in the third round)