Kate Koenig, Arts Editor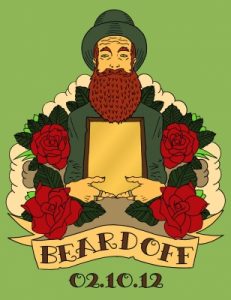 It's time for the Octobeards and No-Shave  Novembeards of months past to take the stage in groomed glory: Beardoff is back for its Third Annual Benefit Facial Hair Competition!
This Friday, February 10, Oneonta's finest beards and mustaches will compete for various prizes at The Autumn Cafe in a night of music, merriment and facial hair enthusiasm. Five musical acts set to perform for the night include Micah Resney, The Spectacular Average Boys, Grassroots Rebels, Horseshoe Lounge Playboys and Krisco Fist. Admission is $5, and all proceeds will be donated to a local organization – yet to be determined – which actively fights to keep hydraulic fracturing for natural gas (commonly known as "fracking") out of Otsego County and upstate New York. Limited-edition Beardoff memorabilia will also be available for purchase, with all proceeds going towards the fight against fracking.
A panel of women will judge the bearded and mustachioed contestants based on fullness, shape, originality and awesomeness on a scale of 1-5 in each category. Contestants may choose from three categories in which to enter – beard, mustache or "other" – and prizes will be awarded for first, second and third place in each. There are also three "honorable mention" prizes, which are open to all contestants: Most Original, Mountainmanliest and Least Inspiring. Those with the highest scores will win prizes donated by Brewery Ommegang, Golden Lotus Tattoo, The Crystal Palace Barbershop, The Oneonta Theatre and The Autumn Cafe.
Competitors will be judged from 9:30 to 11:30 p.m. Women are invited to volunteer as judges, and all participating judges will be entered in a drawing to win a half-hour massage with Chanda Misevis, LMT.
Be there this Friday to gaze upon the finest beards in all the land. Beardoff lends a special thanks to its many sponsors: Brewery Ommegang, The Oneonta Theatre, Golden Lotus Tattoo, The O-Town Scene, The Crystal Palace Barbershop, LiveLIVE Productions, The Autumn Cafe, Mill Hollow Maple, Dryhill Studios, Chanda Misevis LMT, ORabbit Designs and Eveningwith Design.