Sam Spokony, Photo Editor
A mother-and-son writing team. Now I've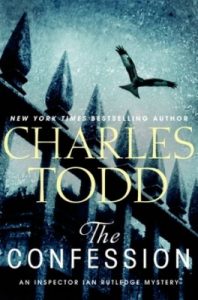 seen it all. My own mother recently told me that she'd suggested we write something together back when I was in high school. Laughable. Not because she isn't a good writer, but because we'd probably claw each other half to death with the prose before anything resembling a manuscript could ever be completed.
But that's exactly what Charles Todd — Charles and Caroline, that is — has been doing for years. And as far as I know, he, she, and they are still in one piece. Good for them; this book, the latest installment in the Inspector Rutledge series, is awesome.
The Confession is a masterfully woven murder mystery, set in England in 1920, which begins with a classic dead body on the first page. From there, amidst society still recovering from the Great War, we meet Ian Rutledge, a member of Scotland Yard who still carries the heavy burden of his combat experiences with him.
In this case Rutledge is randomly confronted by a man who, after introducing himself as Wyatt Russell, confesses to having murdered someone named Justin Fowler five years prior. As he begins to sift out the details of the vague and nervous confession, the inspector is drawn out of London to the small village of Furnham, where he meets a cast of equally shady, and often hostile, characters. Before long, Russell himself is found lying dead in the Thames, and from there the mystery takes on a life of its own. Rutledge ends up digging deeper than he ever thought possible into the long, troubled past of an isolated town, with mistaken identity and deceitful tales at every turn.
The mystery itself is skillfully crafted, with a consistently engaging chain of events and a great sense of balance that retains the suspense throughout without ever giving too much away. But it's what exists outside of the plot that makes this a really fascinating novel. Todd, in addition to telling a complex story, does a brilliant job of capturing the tensions and sheer mental exhaustion brought upon England by the horrors of war.
Rutledge becomes a character of really great depth due in part to emotional trauma. Alongside him during every encounter is the specter of Hamish MacLeod, a Scottish man who served under the inspector in France during the war — and whom Rutledge was forced to execute for his refusal to follow orders that would have led to certain death.
Hamish's constant words of caution or advice about the case are merely imagined by Rutledge, but, along with providing added insight to the investigation, his presence is a very real reminder of a simple fact: things could never be the same after the bloody singularity of the Great War. Todd's skill in meshing this human element with the standard mystery formula is exemplary, and it makes this much more than just a genre novel. It's rare to find a good thriller that so poignantly and tactfully comments on the psychological effects of armed conflict, both on a country and within the mind of one brilliant man.