Eric Greenop, Contributing Writer
Haggis is a traditional Scottish dish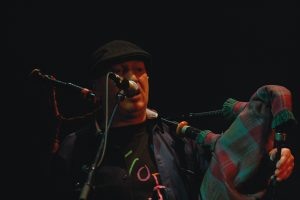 made from a sheep's heart, liver and lungs minced with various spices. On Saturday, November 12, Oneonta got a taste of haggis, but not the kind that you eat. Enter the Haggis, a Celtic rock band from Toronto took the stage with touring partner Scythian at the Oneonta Theatre on their Rootstomp Roadshow tour.
Scythian, a four man group playing an eclectic mix of traditional Celtic, gypsy, and klezmer music, opened the show with an a capella tribute to America's veterans. The Washington D.C. group brought a high level of energy that inspired crowd members to get up and dance on the 3000 square foot dance floor. Throughout their set, various members swapped guitars in favor of banjos, fiddles and accordions. Songs like "Hey Mama Ya," a New Orleans zydeco tune, showcased the band's versatility while Irish jigs and gypsy medleys provided an exhibition of skill and mastery of the fiddle. Scythian finished their set with "Dance All Night," a tune from their recent album "American Shanty," and a blistering klezmer medley that kept the audience buzzed and wanting more.
After a brief intermission, the stage darkened and the crowd cheered as Enter the Haggis began the first notes of their slow, moody opening. The change in pace from the break neck ending of Scythian seemed out of place, but was quickly rectified with their next song, the fan-favorite "One Last Drink" segueing into the high intensity "The Litter and the Leaves." Frontman/violinist Brian Buchanan amicably introduced songs with amusing stories or jokes and encouraged the crowd to "sing along if you know the words." The majority of the singing was split between Buchanan and guitarist Trevor Lewington, with bassist Mark Abraham and bagpiper Craig Downie completing intricate four part vocal harmonies. For the final few songs, Scythian returned to share the stage with Enter the Haggis. The combination performed songs off both of the groups' latest albums, "White Squall" from ETH's "Whitelake" and "Jack Dempsey" from Scythian's "American Shanty." Following the conclusion of "Jack Dempsey," the crowd began to chant, "One Last Drink!" and to the audience's delight, the collaborative group "fired up that fiddle" for a reprise of Enter the Haggis' hit with a twist of Paul Simon's "You Can Call Me Al."
Enter the Haggis' unique name is a reference to their sound. Like the dish haggis, the mixture of sheep organs and spices, Enter the Haggis is a mixture of many influences, sounds and instrumentation with a distinct flavor. It's difficult to narrow them down to one specific genre; they are a genre themselves. Having an opportunity to see a group as talented as they are and with such a distinctive presence was a real treat. While long time fans might have left hoping to hear some of their earlier hits that were closer to their Celtic roots, a large number of new fans left the theater with a new favorite band.