Ren Padilla, Staff Writer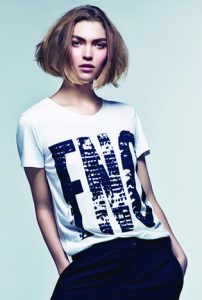 As many of you may know, the wonderful world of fashion is ever changing. So what's new? This past Thursday, September 8, 2011, New York City held its third annual Fashion's Night Out. In 2009, Anna Wintour, the Editor-In-Chief of Vogue magazine and New York designers decided that this would be an excellent way to celebrate fashion by having a night where stores in New York City stay open late. This event was created for everyone who loves fashion and shopping.
Fashion's Night Out is primarily for shopping, but there are also events that designers put on. Alexander McQueen's Sarah Burton was showing never-before-displayed runway looks from Fall of 2011 at his main store in New York City. Meanwhile, Michael Kors made an appearance in Bergdorf Goodman's famous Fifth Avenue store. While some designers may have chosen to show some of the runway looks, Alexander Wang celebrated Fashion's Night Out with a talent show for any performers that wanted to showcase their skills.
Along with all these exciting events were the lovely discounted items in many of the stores. Not only were the name brand stores having discounts, but the smaller boutiques were also having sales as well. Although the first Fashion's Night Out originated from New York City, many places in Europe such as Milan and Germany have also joined in on this event, making Fashion's Night Out a worldwide sensation.
In other news, Michael Kors, a designer and judge from Project Runway, has officially opened up a flagship store in New York City. It is located on Fifth Avenue near the Rockefeller Center. The Kardashian sisters, who collaborated with the designer Bruno Schiavi, have successfully launched their line "Kardashian Kollection" in Sears as of September 6, 2011. Schiavi tells Women's Wear Daily, "We wanted to create something visually appealing such as mixing a corset with leggings." After browsing through it myself, I thought that the collection was sophisticated yet sexy. Karl Lagerfeld also launched a line called "Impulse" with Macy's for the elegant, classy, chic woman.
Leonard Green & Partners company are shutting down Priscilla of Boston, a successful bridal wear store founded in 1945. Rumor has it that Vera Wang's popularity in David's Bridal may have something to do with its closing. Also, Vera Wang is creating an affordable version of Kim Kardashian's wedding dress.
Don't forget that this week is Fashion Week. Designers will be showing off their designs in the Lincoln Center in New York City for Spring 2012. Looking at some of the designers' inspiration and sneak peaks, you can tell that the feel of these shows might be retro. Keep an eye out for the latest trends!