Tim Lavis, News Editor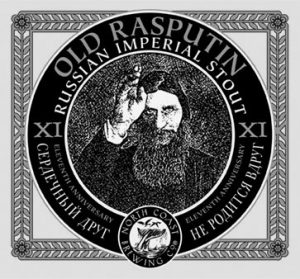 With the balmy climes of the past few days it is easy to forget (or deny) that cold weather is fast approaching. Keeping this in mind, this week's brew review samples four hearty stouts sure to see you through a frosty upstate fall. Now, if you have a taste for stouts, chances are you've had your share of Guinness and have sampled a porter or three. The purpose of this discourse, readers, is not to articulate what you already know. Instead of harping on the classics, on Irish Dry Stout and English Porter, we'll be examining the often undervalued, thick-bodied Oatmeal and Imperial Stout styles.
While the brews under review this week have all been recognized as exemplary in their styles, two in particular, Samuel Smith's Oatmeal Stout and Old Rasputin Imperial Stout, are widely considered the gold standards of their class. Our other competitors, Browns Oatmeal Stout and Storm King Imperial Stout are innovative contenders for that title.
The Imperials Strike Back:
Imperial stouts, the founding brew of the imperial style, are widely associated with Catherine the Great of Russia who gave the stout its royal title. Despite its associations with the great white north, imperial stout is traditionally an English brew: the style was concocted for export to Cathrine's court in the late 18th century. The stouts up for review here are both American brewed: North Coast Brewing Company's Old Rasputin, the reigning champion of the style with a staggering 12 gold medals around its neck and the thrice bemedalled Storm King by Victory Brewing Company.
At 9% ABV, Old Rasputin, despite being brewed on California's Mendocino coast, is the type of beer best drunken in the frigid stillness of a overcast winter night. The stout's pour produces a thick, walnut-colored head above its black, nearly opaque body. Immediately, the drinker becomes aware of an overpowering, overtly roasty aroma with a pungent caramel tinge. Heavy chocolate notes balance out the brew's initial sweetness, which is further accompanied by a caramel-heavy, bittersweet finish. The imperial has a moderate carbonation, and, though it retains a remarkably smooth texture, the stout's body is thick to the point of being syrupy. While Old Rasputin has a predominantly smoky character and a variety of caramel notes, neither of these overpowers this complex and well-balanced beer.
Victory Brewing Company's imperial stout, dubbed Storm King, equally as dark in color as Old Rasputin. The stout, coming in at a hefty 9.1% ABV exudes a noticeably hoppy scent with citrus notes. This brew's aroma is reaffirmed in its bitter, slightly roasty flavor and complemented by undertones of honey. The beer's sour finish, appropriate to the overt hoppyness, carries slight caramel notes. This stout is heavy, but not quite as thick as Old Rasputin, and carries an appropriate carbonation. With the bulk of its character defined by the attributes of citrus and hops, this beer offers a taste quite different from Old Rasputin while remaining a well balanced and creative take on the imperial style.
Note the Oat:
Oatmeal ales, once a common style, have had wavering popularity since the renaissance in Europe. The oatmeal stout, in particular, has made a significant comeback in the 20th and 21st centuries, first for its supposed health benefits, and, modernly, for its unique flavor and heft. Samuel Smith's take on the oatmeal stout was first brewed on commission in 1980, and exemplifies the style with its complex palate. Brown's Brewing Company's oatmeal stout, on the other hand, is a simple, straightforward brew in the style.
Sam Smith's Oatmeal Stout is an immensely fancy looking beer: gold foil lines the neck of this British brew's intricately embossed bottle. For all its pomp and splendor, though, the beer produces a surprisingly modest head. Nevertheless, Sam Smith's stout is regal in color: black with a strong red tinge, and it produces substantial, albeit pale lacing. This oatmeal stout produces a fragrant smell: smoky and chocolaty with biscuity notes. The brew's taste is as complex and ornate as the bottle suggests: the creamy oat sweetness dominates atop slight chocolate and coffee undertones. To balance it's initial sweetness, Smith's finishes bittersweet with an ethereal botanical tinge. The thick body of this stout is complemented by a smooth mouth-feel, although this reviewer thought the brew's carbonation was a little much. Overall, this classic oatmeal stout is a overtly sweet brew with a flavor as complex and ornate as its flower-laden packaging.
The oatmeal stout created by Brown's Brewing Company in Troy New York is, compared with Samuel Smith's, a down to earth drinking experience. Simple in flavor and modest in packaging, this stout pays homage to its heritage with a sincere and minimalist approach to the style. Brown's Oatmeal Stout is moderately hoppy, with a bitterness balanced by oat sweetness and significant, bittersweet chocolate undertones. The beer's simple sour finish is accompanied by an incredibly smooth body that is slightly thinner than Sam Smith's Oatmeal Stout, but which has a more appropriate carbonation. This is a no-nonsense stout with a significant hoppy punch and a straightforward flavor that is missing in the complexity and nuances of many of its contemporaries.