Opinion
Cady Sharp Kuzmich
Editor in Chief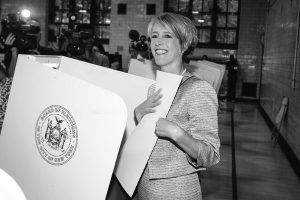 I voted for Zephyr Teachout in the Democratic Primary on September 9. Anyone following the election could have told you her chances of defeating incumbent governor Cuomo were slim, but I hoped I would be surprised. At the very least, I hoped she would scare him stiff.
Teachout, a law professor at Fordham University, won 28 of the state's 62 counties. Not bad for someone with little name recognition and a fraction of Cuomo's campaign funding. Teachout took Otsego county with nearly 73 percent of the vote and won Albany county, Cuomo's turf, with over 60 percent. Her support throughout the state, especially upstate, clearly shows that a large portion of New York democrats aren't satisfied with Cuomo's administration.
Teachout criticized Cuomo's alliance with the Independent Democratic Conference, a group of five democrats who have more or less turned their back on their own party and handed senate authority to republicans. Teachout explained that Cuomo failed to veto a redistricting bill, also favoring republicans. Despite a democratic majority in the senate, the IDC shifts power into the hands of their rival party, effectively blocking progressive bills, such as the Women's Equality Act. This makes Cuomo's creation of the Women's Equality Party especially ironic.
Like many New Yorkers, Teachout questioned why the governor has remained silent on the issue of hydraulic fracturing when the people of New York continue to make their opposition to the practice abundantly clear. Teachout believes Cuomo's silence on the fracking issue can be traced back to substantial donations to his campaign from the fracking industry.
Cuomo ignored Teachout's invitation to take part in a debate, which is not only insulting to her, but to the voters as well. He tried to keep her off the ballot, then tried to kick her off the ballot due to petty residency issues surrounding her time spent in Vermont during the summers. He also called upon former Secretary of State Hillary Clinton to endorse him with robo-calls.
In a recent State Times interview, Teachout said her campaign received 3,800 donations with an average of $53 per donation in the latest filing period, while Cuomo received less than 200 donations in that same period. Cuomo's ability to out-fund Teachout, despite her widespread grassroots support, is an indication of his supporters' extreme wealth. The list of Cuomo's campaign contributors mostly consists of companies donating anywhere between $500-$40,000.
"Who you raise money from becomes who you serve. Cuomo serves his donors," said Teachout.
Throughout her campaign, Teachout has slammed Cuomo's "ol' boy's club" politics and his trickle down economic policies, often comparing his policies to that of Ronald Reagan. She railed on the incumbent governor for running on the promise of "Cleaning up Albany," then closing down his own anti-corruption commission.
The New York Times published an investigative report in July detailing how the Governor's Office meddled in the Moreland Commission on Public Corruption. For those of you who haven't heard, our governor abruptly shut down the ethics commission he created after it began investigating his political allies.
Since the initial investigative report, US Attorney Preet Bharara has been looking into Cuomo's handling of the commission. Bharara also issued a warning to the governor not to interfere with witnesses in the investigation after some members of the commission received "upsetting" calls from the Governor's Office.
So, how did Cuomo, who is currently under investigation by the US Attorney for mishandling an ethics commission, manage to defeat Teachout, the law professor and self-proclaimed corruption scholar?
A recent Siena Poll showed that most New Yorkers don't even know about Cuomo's ethics scandal. "Voters say corruption in state government is a serious problem, yet, two-thirds are unfamiliar with the Moreland Commission or its work and nearly two-thirds say they've heard little or nothing about [US Attorney] Bharara's investigation," according to Siena Research Institute.
Despite the fact that Cuomo's questionable handling of his own ethics commission is being closely scrutinized by federal investigators, Cuomo won the democratic primary by nearly thirty points.
While Teachout lost the election, she had a small victory in making Cuomo sweat. Perhaps her strong showing will force Cuomo to reconsider who he really represents.