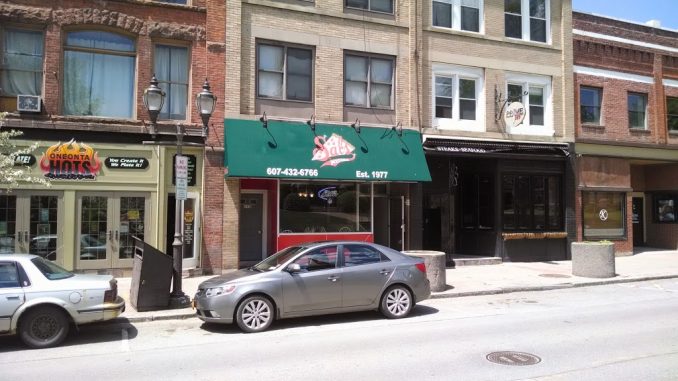 Daniella Fishman, Staff Writer|
Recent developments of the COVID-19 has the Oneonta community feeling the impact of the pandemic. Students have been advised to stay home if they have adequate living conditions to continue the semester's courses online and schedule times to move their belongings out of the dorms if they so choose. Along with campuses shutting down, there are state-wide closures of bars and restaurants with the restrictions on seating customers inside causing local businesses to feel the financial strain of the ever-evolving crisis. With college students suddenly absent from the area, restaurants are losing their largest clientele base. As the community adjusts to this new way of life, some locally beloved restaurants are facing hardships due to the sudden decrease in customers.
Sal's Pizzeria, a usual hotspot for Oneonta's students and locals alike, has seen a drastic diminishment in their daily customer base. Owner Jennifer Grigoli said that she will not close the establishment unless "[the government] makes us." Grigoli told the State Times that she works diligently to make sure the community is safe and well-fed, regardless of the pandemic. With their deep-rooted initiative to help others, Sal's Pizzeria is fighting to ensure the safety and financial stability of its employees and those less fortunate in this time of distress.
Grigoli informed the State Times of the Pizzeria's donations to local food banks, including Meals on Wheels, while also providing free slices for those struggling community members who cannot afford food at this time. Grigoli described this period as stressful and chaotic: "People are struggling, and unfortunately, some may not survive this. Many people are out of a job, but that is why it is so important for us to come together as a community and do our best to help." Grigoli wants students to know that "From all of us at Sal's, we love all of you and miss you very much." She wishes the best for the seniors affected by these unlucky and stressful times and further hopes things will return to normal soon.
While Sal's Pizzeria is lucky enough to be able to keep their employees, other establishments were not so fortunate. Wayne Carrington, owner of The Autumn Cafe and B-Side Ballroom, unfortunately had to let some of his employees go. Nonetheless, Carrington is working diligently with the local government and other businesses to put together an "Employee Relief Fund" in an attempt to take care of those affected by unemployment.
The Autumn Cafe is also working with local food vendors to help public access to dairy products, eggs, fresh-baked goods and pasta for people who are either too scared or unable to go to large grocery stores. Carrington described this situation using the Titanic as an analogy: "We have only just hit the iceberg," Carrington stated. "We've yet to realize the ship is going to sink." Carrington emphasized the importance of asking others to help: "That is the only thing that will lead us out of this darkness, helping our community and coming together." He reminds the student body to breathe and stay positive, for the sake of themselves.
Rodney Thornsland, owner of Nick's Diner, describes the current situation as "catastrophic." He fears for the future financial stability of Oneonta and worries that local and state governments might not do justice by the people. Thornsland is devastated by the homeward-bound students, who play a significant role in the Oneonta economy. He believes that hundreds, if not thousands, of small and medium-sized businesses, will not be able to reopen even after this crisis resolves.
Per state and federal regulations, Nick's Diner is only offering take-out and/or delivery options. Nonetheless, this proves to be difficult as only he and his wife are working at the diner. Nick's Diner is currently helping the community by offering a free slice of pizza and juice for children that need lunches during the crisis with the closing of grade schools across the area. Thronsland also informed the State Times of a possible "Food Truck Sale" in partnership with a wholesale local food supplier, tentatively scheduled for April 4.
While many local businesses are struggling to adjust to this new change, all of them express the same anxiety due to the lack of communication between them and local, state and federal governments. Many of them are unsure as to the future of their businesses as well as their own financial stability. Having contacted local congressmen, Thornsland informed the State Times that they have the same limited knowledge as to the future of local businesses. As more information emerges, we want our readers to know that it is times like these where small businesses need your help more than ever. Local businesses are at risk of closure due to pervasive quarantining and self-isolation. So instead of going to the nearest McDonald's, go local and leave a small tip. Afterall, you don't see chain restaurants offering free meals or otherwise going above and beyond to help their community. So next time you're hungry and can afford to eat out, get a burger from someone who needs to put food on their family' table as well.
We at the State Times want to remind our readers to stay calm, stay aware and stay safe. Wash your hands, keep busy and remember that this too shall pass.