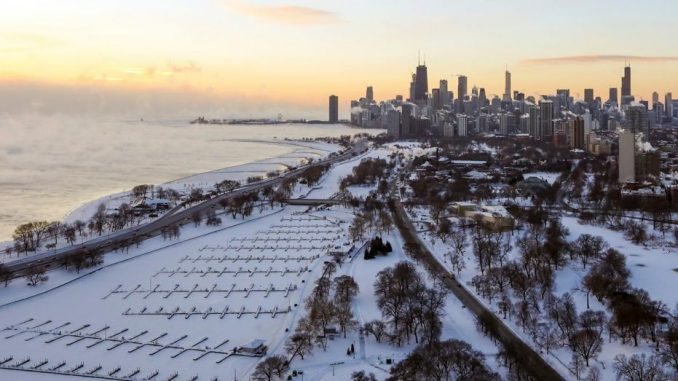 Tara O'Leary, Staff Writer|
Record low temperatures swept across the nation last week due to a polar vortex. NBC meteorologist, Kathryn Prociv called it a "historical cold" as some parts of the Midwest were even more frigid than Antarctica. "You're talking about frostbite and hypothermia issues very quickly, like in a matter of minutes, maybe seconds," stated meteorologist Brian Hurley.
The bitter weather was a danger to many, creating a lot of problems around the country. 90 million people across the United States saw drastic temperatures of or below zero. The cold caused schools to close, flights to be cancelled, pipes to burst, and the deaths of 21 people.
Two college students were among those who passed away. 18-year-old Gerald Belz was found outside of his dorm at the University of Iowa. 19-year-old Connor Gage from the University of Vermont was found in a parking lot, with police citing "exposure to cold" and "inadequate clothing" as his likely cause of death.
They weren't the only ones struggling with the terrible weather. Many homeless people either lost their lives or were hospitalized with frostbite. Warming shelters were set up across different cities with the intent to help them face the cold, but not everyone got there. The snow and ice also made driving conditions poor, resulting in a few deadly car accidents.
The temperatures were incredibly low, but the added wind chill made it even worse. In the Midwest, the wind chill made temperatures of negative 40 degrees Fahrenheit feel more like negative 63 degrees. "These are some of the coldest temperatures an entire generation has ever felt," Prociv said in regards to millennials. According to BBC, over 30 record lows were broken throughout the Midwest; Minnesota reached a low of negative 56 degrees, while Mount Carrol broke its previous record by reaching a low of negative 38 degrees.  Last week, Chicago broke a record as well, making the announcement over Twitter. "The official low temperature at Chicago this morning was negative 21 degrees Fahrenheit. This shatters the previous record for Jan 31, which was negative 12 Fahrenheit set back in 1985," @NWSChicago wrote, "In records that date back to the 1870s, this is only the 15 time Chicago has seen a daily low this cold or colder, yesterday was the fourteenth."
Chicago faced temperatures well below zero, greatly impacting the Windy City. Over a thousand flight arrivals and departures were cancelled on Wednesday at the city's two biggest airports, O'Hare International and Midway International. On that same day, Amtrak also cancelled all trains going in and out of Chicago. At a local hospital, 50 patients were being treated for frostbite. "It's a horrific situation," stated Dr. Stathis Poulakidas after seeing many "horrific injuries to feet and hands." Some victims could potentially lose limbs as a result. Half of those patients were homeless individuals, who remained largely at risk throughout the week.
While many people across the nation took precautions, Kentucky Governor Matt Bevin thought they were being a little too cautious. "Now we cancel school for cold," Bevin complained, "We're getting soft." The governor continued, saying, "we're sending messages to our young people that if life is hard, you can curl up in the fetal position somewhere in a warm place and just wait 'till it stops being hard."
As the polar vortex reaches its end, temperatures will abruptly get warmer. This dramatic increase in temperature has led emergency officials to warn citizens of possible flooding caused by the bitter cold a and a lot of ice and snow. The rapid melting of that snow could now cause flooding moving for