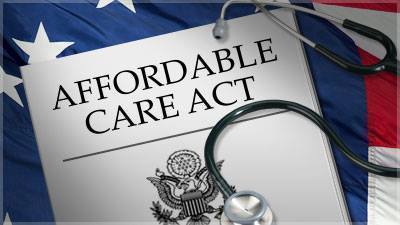 David Anderson, Staff Writer
On January 20, President Trump signed a six-section Executive Order titled "Minimizing the Economic Burden of the Patient Protection and Affordable Care Act Pending Repeal." In it, Trump announced that it will be the goal of his administration to repeal the Patient Protection and Affordable Care Act in lieu of a "more free and open healthcare market" but since that endeavor is still being formulated, the executive branch seeks only to "take all actions consistent with law to minimize the unwarranted economic and regulatory burdens of the Act." He then instructs the Secretary of Health and Human Services as well as the head of all other executive agencies to exercise all available power to waive any implementation of the Act that would impose a fiscal burden on a state, healthcare provider, insurer, individual, family, etc., encourage greater flexibility to states in implementing healthcare policies, and for the states to prepare for a shift towards a free healthcare market. While the lack of specificity in this order fails to put a true, measurable dent in the ACA, it gives the HHS and other relevant executive agencies the freedom to be as aggressive or as unaggressive as they want in waiving mandates imparted by the ACA. That is, until they start bumping up against the many, and more specific guidelines installed in the ACA.
The more realistic outcome could be a loosening of the individual mandate to have health insurance, last Sunday the 22 on CNN's Face the Nation, Kellyanne Conway, one of Trump's senior advisers, relayed that Trump is really seeking to take an initial stab at the penalty for being uninsured as these individual penalties are "strangling" Americans and have the least red tape surrounding them. However, agencies that begin to issue waivers too liberally run the risk of weakening the individual market. As it stands now, the HHS is still without a Secretary as Tom Price is yet to be confirmed, an absence which leaves the only explicitly named agency in the bill in a state of inaction. Ultimately, Trump's order sets a precedent with myriad loose ends which can only be speculated upon at the current time.
Dovetailing this executive order was a statement made by acting Office of Management and Budget Director, Mark Sandy, this past Thursday. His statement added no new information to the order but sought to refine its scope, stating that the "implementing this executive order would have a de minimis (too small to be substantial) impact on costs and revenues to the Federal Government…mandatory and discretionary obligations and outlays, as well as on revenues to the Federal Government." He concluded the statement with no new specificity, naming only the Department of Health and Human Services as one that will be impacted. The concision of his statement reiterates firmly that the results of the order are to be small, impacting only one agency by name who is yet to have an acting secretary.
Realistically, an overhaul of the ACA would require the Trump administration to make more specific changes to Obama's regulations, followed by a period of vetting by the public, and a final rule, a substantially lengthier process which may leave Trump's supporters disillusioned with their candidate who promised immediate change. This executive order acts more as a quick, initially inconsequential stab at the ACA in order for Trump to demonstrate to his voters that he is good on his word.