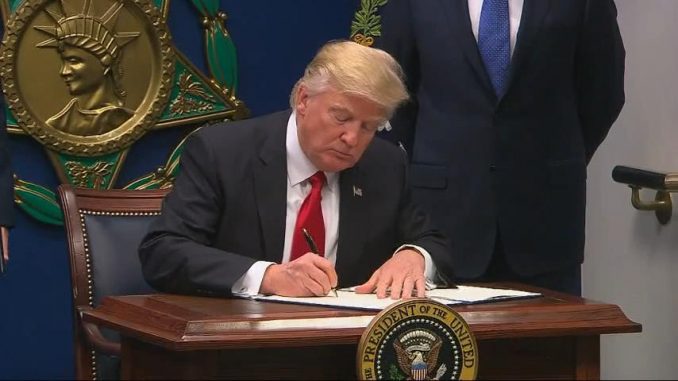 Andrew Speers, Contributing Writer
This past weekend, President Donald Trump issued a freeze on immigration and refugee asylum claims from seven Muslim majority countries which include Iran, Iraq, Syria, Libya, Somalia, Yemen, and Sudan. Under this ban, non-US citizens who were able to travel to the United States before the ban, would be unable to for 90 days and refugee seekers would need to wait 120 days before any new requests could be filed. The Trump administration has also said they would prioritize people escaping religious persecution from the Syria crisis, but has left rumors that this would only apply to Christian faiths.
According to the BBC, almost immediately after coming into effect, the American Civil Liberties Union filed a motion to try to allow passage to those detained in American airports. Federal Judge Ann Donnelly of New York issued a ruling that allowed the passage of people who had valid visas, approved refugee applications and other legal means to enter the United States. However, the ruling does not delve into issues of constitutionality. The ruling also only allows those detained to remain on U.S. soil, but does not guarantee their freedom until the 90 day freeze is up.
Protesters have gathered in airport terminals and parking lots across the U.S. in order to call for the freeing of those detained. Facebook and Twitter were filled with live videos and posts from those on the ground in an unprecedented spontaneous protest wave. Demonstrators cheered in John F. Kennedy International and Hartsfield-Jackson International in Atlanta as certain detainees were freed. Mayors Bill de Blasio from New York and Marty Walsh from Boston have also held press conferences in support of those detained.
Trump Administration Chief of Staff Reince Preibus and White House Counselor Kellyanne Conway have defended the order by citing the small numbers of those effected being a small price to pay for American security. Preibus, via the BBC, has said that "of the 325,000 people entering the U.S. on Saturday, 109 were detained." He also went on to say on NBC's "Meet the Press" that if those detained were not "awful people" then they would be processed and released. Conway, in an interview with Fox News, made no mention of a timetable for the release of those detained but claimed the "upside is greater protection for our borders, our people." She also claimed that the seven countries chosen were from the Obama Administration's 2015 Terrorist Prevention Act, which cites countries with a history of harboring and training terrorists.
British Prime Minister, Theresa May, just hours after returning to the U.K. from her visit with President Trump was forced to denounce these travel restrictions. According to a BBC report, secretary Boris Johnson will be speaking with White House Chief strategist Steve Bannon and senior advisor Jared Kushner on how to protect Britons from being effected by the ban. Johnson also said the order was "divisive and wrong." The United Nations has also condemned the executive order and Canadian Prime Minister, Justin Trudeau has said he would welcome those turned away by the United States.
The Trump team has again hid behind claims of media bias in reporting this ban and continues to defend the positions on the basis of national security. It is interesting however that the United States has not had any major terrorist attacks since 9/11 without use of these types of bans. Also, major shootings and attacks most recently in the United States were perpetrated by white, U.S. citizens as in the case if Dylann Roof and the Newton shootings. Also, the White House claims that this ban is not based on religion or bias, however, even citing the 2015 act by the Obama Administration (which was sponsored by a Republican), one is left to wonder why the seven would not be expanded to included countries such as Saudi Arabia and Egypt where several of the 9/11 attackers were either trained or born, and have been known to have far-right Islamic laws and movements. Other notable exceptions would include Pakistan, where Osama Bin-Laden was found and killed, and also Nigeria where radical group Boko Haram has been active for several years now.
One would also hope that the new administrations recognizes that Christians in Syria are not the only persecuted group. If this ban is truly not based on religion, one would expect to see, along with Christians, Shiite Muslims, Jewish faiths, Kurds and Yazidis also accepted into the United States.