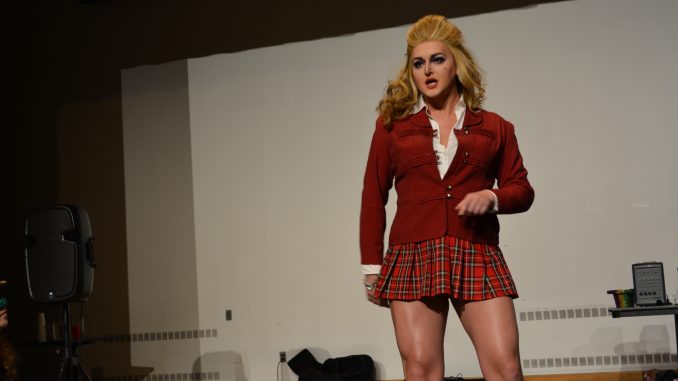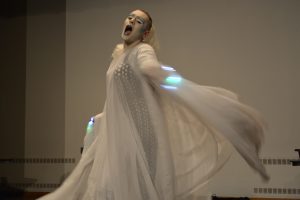 Adia Watts, Editor-In-Chief
Last Saturday night, the Hunt Union Ballroom was alive with the sound of lip-synching when SUNY Oneonta's Gender and Sexuality Resource Center (GSRC) and Gender and Sexuality Alliance (GSA) put on their third annual Drag Ball as part of the SUNY Pride Conference. The dynamic and electric three-act show was emceed by Amun Ra.k and featured four performers: three drag queens and one king.
First to the stage, hailing from "the trenches of World War 69" was Bee'uh Bombchelle. At just 20 years old, Bombchelle owned the stage as if she was a seasoned veteran of the drag game.
Next up, with skin porcelain enough to make a set of fine china jealous, was Jacqueline Frost. With moves as graceful as hers, you would have never known she was "trapped in an iceberg for 3000 years."
Following her was Pacifica Rim, who "belly flopped onto the land" and strutted her stuff, fabulously, onto our Hunt Ballroom stage. The crowd stirred vivaciously as we all prepared "to get rimmed."
Finally, the "grandfather of the group," Mr. Sabastian, came out and worked the entire crowd with fierceness, agility, and dance moves galore!
After the show, the drag royalty honored The State Times with an exclusive interview.
The foursome mesh together well as a group. The hair is big and the personalities are bigger. Jokes and jabs flying (at one point Rim joked that Frost came from "Elsa's queef"), they're funny, but also filled with so much love for each other. Many times during the interview, they referred to each other as family.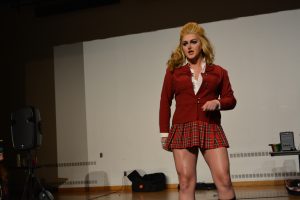 As for their biological families, the group had different stories about how their relatives reacted to their decision to become drag stars.
As a teen, Mr. Sabastian experimented with makeup and pretended to be one of his sister's friends when his mom came home. At first, his mom didn't even recognize her own child, but eventually she could tell by the color of his eyes that it was her child staring back at her. His mom was shocked, but Mr. Sabastian credits his stepfather for helping his mom to understand his lifestyle.
Bombchelle said that her parents were very supportive of her journey. Her father was and still is very protective of her because he is concerned about her safety in a world where not everyone is as understanding and accepting as he is. Her mother was also equally as supportive and even helped her learn about makeup.
Rim grew up with her grandmother, who is actually an Oneonta alumnus. Rim's grandmother found out about her doing drag when she caught Rim sneaking out one night to go perform: "She has this little flashlight that she uses in the dark to get up at night. And I had done my makeup and put my wig on and was ready to leave and was sneaking down the stairs … I didn't know she was up. She shone the flashlight in my face … and she went, 'Well, I can't say I'm surprised. Be safe.' … And now she tells me to pull my skirt down and not to give it all away."
Frost did not have the same supportive experience as her drag family. After the death of parents, Frost moved in with her grandparents who were abusive and unsupportive. Frost was kicked out of her grandparent's house. She moved in with her friends and continued to live with them since that day. That was also the last day she spoke to her grandparents.
Bombchelle quoted the famous drag queen extraordinaire, Ru Paul: "As gay people, we get to choose our family," and these four have definitely chosen correctly. There was so much love in the room that it permeated through me.
For my first experience at a drag show, it was certainly a wonderful one. If you would like to follow these phenomenal drag nobles on social media, you can find them here: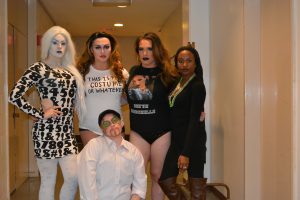 Pacifica Rim: @thepacificarim on Instagram
Mr. Sabastian: Sabastian Lanteigne on Facebook
Bee'uh Bombchelle: @snatchgoddess on Twitter
Jacqueline Frost: @jeremyhempstead on Instagram and Snapchat