Sam Shereck, Staff Writer
1. Artificial Brain
Artificial Brain is a band who took 2014 and made it their year. Early on they released their full-length debut album, Labyrinth Constellation.  The album held up as one of the most loved and talked about records of 2014 by fans and critics alike–and for good reason. Their use of spacey anti-melodies as spice to the prime meat of unapologetic and grimy death metal, as well as vocalist Will Smith's alien-like rumblings, proved to be a winning formula. They embarked on their first nationwide tour with fellow New York avant-garde death metallers Pyrrhon and like-minded spacegrinders Gigan. Going into 2015, they are looking at their first Maryland Deathfest appearance on the festival's outdoor stage and hopefully some new material. Artificial Brain will continue to lead metal fans and all other earthlings into the space age.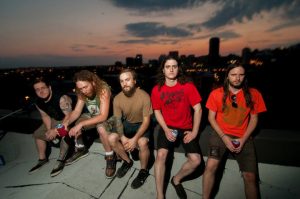 2. Inter Arma
Inter Arma have proven their worth through persistence. The Richmond, Virginia five-piece have put out some of the best metal in both 2013 and 2014. They unleashed Sky Burial in 2013 which brought their mountainous fusion of sludge metal, doom metal, black metal, Americana folk and southern rock to the forefront of the metal scene. They followed that up last year with The Cavern, is a 45-minute song that started being written in 2008. It proved to be one of the most unique and captivating releases of 2014. On top of all that, they played the prestigious Roadburn Festival in the Netherlands. The band has toured relentlessly in both the US and Europe in the last few years and already have countless shows lined up for 2015. One of them is an appearance at this year's  Deathfest in the intimate setting of the Baltimore Soundstage venue. Inter Arma have already shown they have new material in the works. In addition to all the great live shows they will play, hopefully 2015 will bring us another stunning release from Inter Arma.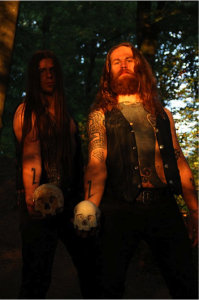 3. Bölzer
The Swiss unit known as Bölzer have proven to be an anomaly in metal, and are forging further into the unknown with a sound never before achieved by any band. The band defines their name as "a powerful force or blow or strike that has no regard for the consequences or the repercussions. And in that sense it's not directed either, it's just a chaotic strike of energy…a force of chaos, and a force of life and death and anything." This is clearly represented in their music. Bölzer is a duo of guitarist/vocalist KzR and drummer HzR. For a band consisting of only two instrumentalists, they sound more monumental than most bands double their size. The band released one demo in 2012 called Roman Acupuncture and started to gain some real momentum when the two part EP series of Aura and Soma was released. (Aura was released in 2013 and Soma in 2014.) On the duality of these two EPs, KzR stated in a Noisey interview, "Aura is concerning the metaphysical and the spiritual, and Soma is concerning the flesh and the earthly aspect of things. They both play with death and rebirth in that sense, and they're both completely intertwined." The band have mostly kept their live sets in Europe but played the States for the first time at the 2014 Maryland Deathfest. They will be playing the inaugural California Deathfest. Perhaps most stirring for fans world wide, the band plans to release their first full-length this year. With the upcoming record, Bölzer is expected to strike the metal world like a bolt of lightning, continuing their sonic journey into the human and cosmic psyche.
4. Full Of Hell
For such a young band Full Of Hell have made a huge impact in the hardcore and metal scenes by pushing the thresholds of music and noise into an extreme fusion of deathgrind, harsh noise and powerviolence. They ended 2014 with a collaboration with the legendary Japanese noise artist Merzbow and entered 2015 with another full-length album on the horizon. Oneonta should be no stranger to Full Of Hell as they have played a now locally infamous set at the Beer Barrel Inn, nearly leveling the building with their vicious wall of sound. They also graced the Gallagher's stage at Oneonta Punk Fest, wowing the punk music fans and frat bros in attendance alike. You can catch Full Of Hell live almost anywhere in the US as they tour so relentlessly and will be sharing the stage with Inter Arma at the Baltimore Soundstage for Maryland Deathfest.
Evolving from one of Sweden's youngest, most energetic old school death metal revivalist bands, the Tribulation that exists now is a wholly different entity. Tribulation shape-shifted into the clairvoyant, spectral entity they are now with their 2013 album The Formulas Of Death. They are currently supporting death metal legends Cannibal Corpse and Behemoth on their North American tour. Their next offering, The Children Of The Night ,is to be released on March 23. An expansion of the madness present on The Formulas Of Death , as well as further sonic exploration is expected for the new album. The Children Of The Night will likely solidify Tribulation as a unique and stalwart force in extreme metal for years.
6. Noisem
Touring partner of Full Of Hell on many occasions, Noisem have carved their own path out of the Baltimore hardcore scene into the minds of metal fans worldwide by touring with the likes of Carcass, Exhumed, Obituary, The Black Dahlia Murder and Gorguts. Two years after their debut on A389 Recordings Agony Defined, Noisem finished tracking their sophomore album Blossoming Decay, at Developing Nations Studios and will be released once again on A389 Recordings. The band hopefully has a long, promising career ahead of them as the youngest member is 17 and the oldest is 22. (It makes you wonder what you're doing with your life.) Like Full Of Hell, it's a forgone conclusion Noisem will be playing somewhere near you in 2015 and you need to go see them.
7. Mgła
Mgła are one of the most consistently excellent bands in black metal and all metal in general. After gracing the United States for the first time at 2014's Maryland Deathfest, Mgła are rumored to be releasing a new album this year. That is all that is really known as Mgła keep quiet about their albums until they are completed. But Mgła are so good, even the mere thought of a new album is riveting. Their 2012 album With Hearts Toward None was an instant five-star classic, just like everything else they've released, so this forthcoming album should be no different. Hopefully the impending release will also bring the masked legion of Mgła back to the US for more live performances.