Richie Feathers, Staff Writer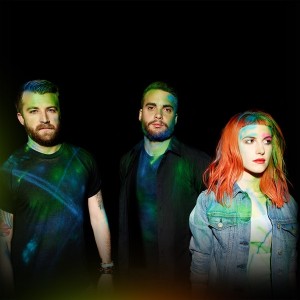 Growing up is a common theme that runs throughout much of Paramore's fourth album. The Tennessee-bred trio's front woman, Hayley Williams, often sings of moving on without someone, of learning from past experiences and of the band's future – a future which was largely in question after the band lost two of its original founders, Zac and Josh Farro, in 2010. Ungraciously leaving after the release of Paramore's breakout record "Brand New Eyes," the brothers forced the group to carry on without a cowriter or a drummer. Yet three years later we find the trio releasing a proudly self-titled album with 17 tracks — three of which are ukelele-led interludes — with a 64 minute runtime.
"Paramore" is a punk-pop/rock monster of an album that finds Williams, guitarist Taylor York and bassist Jeremy Davis at a new level of confidence and, yes, more grown up. It also finds the band experimenting with new sounds, broadening their appeal like never before. This is due mostly to the inspired choice of Justin Meldal-Johnsen as producer, a man whose resume includes acts like M83 and Neon Trees. Although he's not the most obvious choice, Meldal-Johnsen has given Paramore a fresh style without abandoning the trademarks that made them so special to begin with. Of course the Farros' departure has helped in the band's new direction, too, as many of the album's songs are either directed to or written about the controversy they caused, but the trio doesn't dwell on their past, choosing instead to enjoy the present and look forward to their bright future. And as a result, "Paramore" is the band's biggest, best and most mature album they've ever created – one that truly shines when the music is at its most unpredictable.
"Ain't it Fun" is easily the record's highlight as a joyously sarcastic welcome to "the real world" that comes complete with a gospel choir. Elsewhere, Meldal-Johnsen infuses synths to wonderful effect on the contagiously uplifting "Last Hope" and the expansive coda of "Grow Up," while "Still Into You" is an instant hit aided by York's driving guitar and a poppy production. Yet, tracks like the brisk "Anklebiters" and excellent "Daydreaming" still recall classic Paramore; "Part II" could even be considered a sequel to 2007's "Let the Flames Begin." And while with an album as broad as "Paramore" there are naturally a few missteps, Williams' voice – an instrument that can go from gorgeous to gritty with the change of a chord – grounds and holds it all together. She breathes as much life and personality as ever into these hook-filled tracks, making the album a true success. But it's the trio's newfound unity as well that makes their return so fulfilling. They deserve all the praise coming their way and the satisfaction of knowing that sometimes in the music industry the sweetest revenge can be a killer rock album. "Paramore" proves that the band has grown up, moved on and are starting to become the promising rock band they've always had the potential to be.