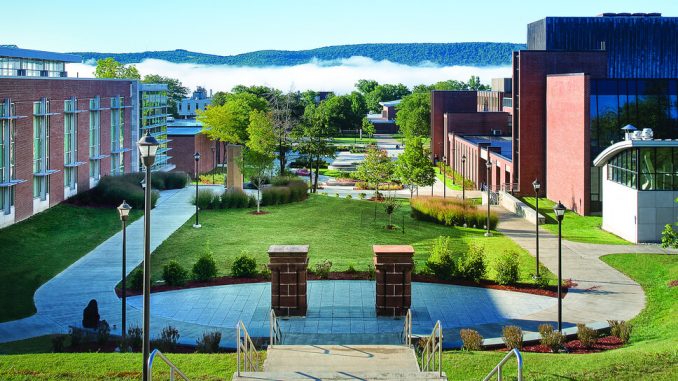 Andrew Dawson, Editor-in-Chief |
On Jan. 23, 2023, SUNY Oneonta was officially recognized as a New York State university. Last year, the New York State Board of Regents changed its rules and regulations related to the number of graduate-level degrees a college must offer to be considered a university. Due to this policy change, and the number of graduate and undergraduate programs SUNY Oneonta offers in the liberal arts and sciences, our college qualified to become a university.
"This is a significant moment in our history. Designation as a university will strengthen the future of our institution and boost prospects for enrollment, especially among international and graduate students. It showcases our commitment to progress and more accurately signifies the structure and rigor of our academic offerings," said SUNY Oneonta President Alberto Cardelle https://suny.oneonta.edu/news-events/suny-oneonta-attains-university-status.
SUNY Oneonta offers a total of 55 bachelor's degree programs in the liberal arts and sciences and has 16 master's degree programs. With the new change from the Board of Regents, a college must offer three graduate programs across three different disciplinary areas. SUNY Oneonta meets these criteria by offering a certificate of advanced study programs in education, biology, lake management, museum studies, and nutrition and dietetics.
The status of the university is significant because it can lead to new partnerships with other universities, improved graduate programs, higher enrollment numbers, and attract more international students. This is because the term university holds more value and is considered a place of higher learning, than the term college. Additionally, becoming a university will help our college receive more grants for research opportunities.
President Alberto Cardelle said, "It's going to open opportunities and justify our growth in our graduate areas, our potential scholarship and research opportunities for our faculty. All of those doors are now open because of the University," https://www.wktv.com/news/education/suny-oneonta-becomes-a-university/article_f5814144-9cf9-11ed-b331-5b9479c2d798.html.
The college's official name changed from "State University of New York College at Oneonta" to "State University of New York at Oneonta". However, the college will still go by "SUNY Oneonta" and will continue to use its current logo.
The official announcement of the status change of SUNY Oneonta was very exciting and our Red Dragon students are eager to see the improvements that come with our college's new title. With these new improvements, our college could offer more educational programs so our students can "grow intellectually, thrive socially, and live purposefully."