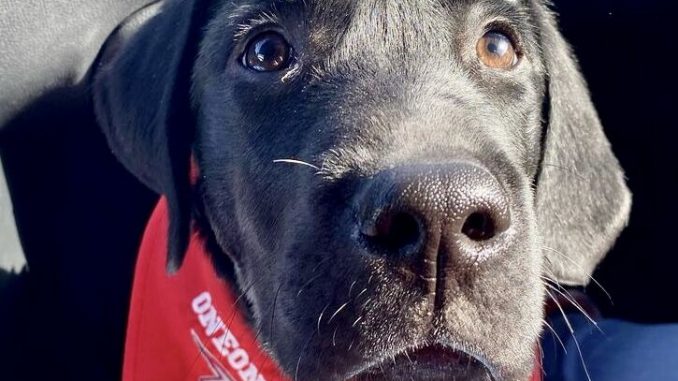 Andrew Dawson, Editor-in-Chief |
SUNY Oneonta made history this semester by raising its first dog on campus. Our new Red Dragon student is a 5-month-old Labrador Retriever puppy named Ink! SUNY Oneonta obtained Ink from a nonprofit organization called Guiding Eyes for the Blind. Guiding Eyes for the Blind trains puppies as guide dogs, and provides them to people who are experiencing vision loss.
Ink is being raised by junior Anthropology major Taylor Hendrickson who is the president of the brand-new Guiding Eyes for the Blind Club on campus. The Club was created by Assistant Professor of Food and Nutrition, Dr. Kelly Martin, who raised a puppy of her own for Guiding Eyes for the Blind last year. Dr. Martin loves animals and wanted to help start the student club after learning about Hartwick College's pre-existing Guiding Eyes for the Blind club, which has raised six puppies on its campus.
Hendrickson is teaching Ink basic obedient skills such as not jumping on others, waiting for food, responding to his name, and walking on a leash. This training is called "puppies foundations class", and after this process is complete, they will work with Ink on the "big dog class." Volunteer work with their pups for 16 to 18 months before returning the dogs to the organization. After this process is over, experts at the Guiding Eyes for the Blind will run basic tests on the dogs and determine their future career paths.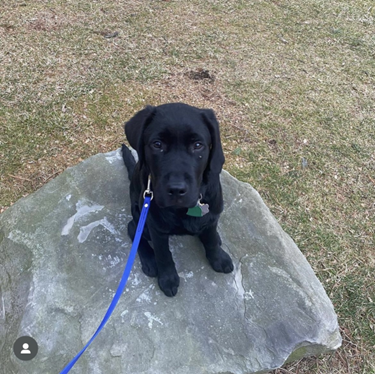 Guiding Eyes Leatherstocking Volunteer Region Coordinator, Amy Blechman, visits our campus weekly to talk with Hendrickson and evaluate the progress Ink is making. Blechman also helps teach Ink the "puppies foundations class". Once Ink successfully finishes that class and begins the "big dog class", Guiding Eyes for the Blind will send one of the organization's Regional Puppy Instructors to have multiple check-ins with Ink. All dogs provided by the Guiding Eyes for the Blind are bred by their organization to make sure they have the proper training to be guide dogs for others.
While raising a 5-month-old Labrador Retriever in college may sound fun, it's been a difficult task for Hendrickson. She must raise Ink, attend to his needs, and still focus on all her classes. And she has to stay diligent with Ink and make sure she corrects any of his bad behavior. In an interview with WKTV NewsChannel 2, Hendrickson discussed the difficulties she's been having with managing her schedule and how Ink socializes with our college community. Hendrickson said that many students don't understand that Ink is training to be a guide dog, and some students have even barked in their direction while she walks Ink around.
However, she values this experience and Ink has been making some great strides. Ink was present at the 2023 Spring Club Expo to entice other students to join the Guiding Eyes for the Blind Club, and she has brought Ink on a few trips to Hunt Union's Starbucks.
On Jan 20., Hendrickson had an interview with faculty members at SUNY Oneonta about her experience raising Ink. Hendrickson said, "I'm excited this is all finally happening after lots of work behind the scenes. I actually just learned that my great-aunt raised 21 dogs for Guiding Eyes, so I guess it's in my bloodline, just like it's in Ink's. From the first time, I heard about this from Dr. Martin, something about this program just stuck with me. The good they're doing for others, providing these dogs to people at no cost, I wanted to be part of that, and I'm so honored I get to be," https://suny.oneonta.edu/news-events/student-raises-first-guiding-eyes-blind-puppy.
On Mar. 23., SUNY Oneonta announced on its Instagram account there is a second puppy being raised on campus. This news came on National Puppy Day, and the dog is a female yellow Labrador named Emoji! Emoji is being raised by Kirstin Kavountzis, the Guiding Eyes for the Blind Club's Secretary. Kavountzis is junior dietetics major from Washingtonville, New York.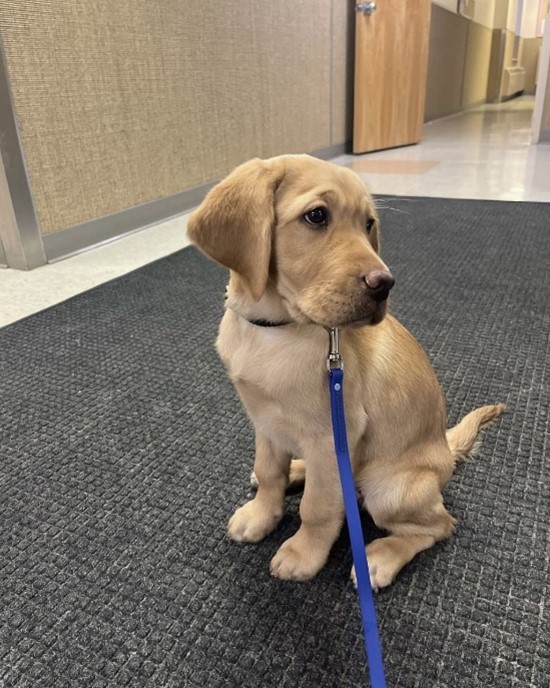 If you would like to see more of Ink and Emoji, visit their Instagram accounts @geb_ink @geb_emoji. And make sure you say hello to Ink and Emoji if you see them exploring our campus!