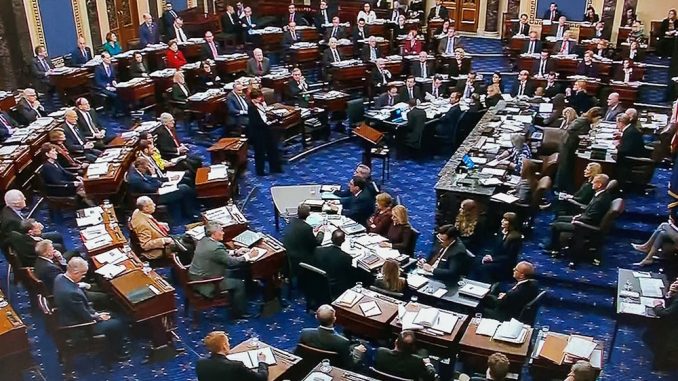 Andrew Dawson, Staff Writer |
On Jan. 13, the House of Representatives voted to impeach former President Donald Trump for high crimes and misdemeanors for his role in inciting riots at the U.S. Capitol. This ruling happened only one week after Trump supporters rioted in the Capitol building, causing the death of five people.
Donald Trump was also charged with "incitement of insurrection" after urging his supporters to "fight like hell" before they attacked the U.S. Capitol on Jan. 6, according to NPR. Trump is the first president to be impeached and stand trial twice. "This sad chapter in our history has reminded us that our democracy is fragile. That it must always be defended," said President Joe Biden after the conclusion of the trial.
Seven Republicans broke their party ranks and voted to impeach Trump, including Wyoming Rep. Liz Cheney. Cheney stated, "None of this would have happened without the president. The president could have immediately and forcefully intervened to stop the violence. He did not. There has never been a greater betrayal by a President of the United States, of his office, and his oath to the Constitution."
"The trial itself will put a lot of new evidence into the historical record so we can evaluate the actions of various parties involved. And regardless of the outcome, it's a strong assertion of the rule of law, which says no one is above the law and that those who break the law should be held accountable, no matter how powerful they or their allies are," said Dr. Brett Heindl, head of the political science department at SUNY Oneonta.
On Feb. 13, the Senate voted 57-43 in favor of Trump being convicted, failing to to gain the two-thirds majority needed to convict. In one of the fastest impeachment trials in U.S. history, the Senate declared Trump acquitted, meaning Trump is free to run for office again in 2024. Trump's defense focused on allegations that the trial was "unfair and unconstitutional" and denied that Trump had incited an insurrection.
After the trial, Trump released a statement accusing Democrats of transforming "justice into a tool of political vengeance" and defended his actions as the president. "I always have and always will be a champion for the unwavering rule of law, the heroes of law enforcement, and the right of Americans to peacefully and honorably debate the issues of the day without malice and without hate," said Trump.
"The second impeachment is even more detrimental than the first one," said John Martello, a sophomore at SUNY Oneonta. "I like to think of it in two ways: domestically and internationally. Domestically, it increases the already existing polarization, but what about the reputation of the GOP? It's shattered and broken. Internationally, America is a laughingstock amongst other governments. We have elected a man who broke two impeachment records, impeached twice, and impeached out of office. America prides itself on their democracy, but what happens when ours fails?"
As of now, it's unclear if Donald Trump will run for office, but it's likely we will see more of Trump again. Whether he is running for president, campaigning for his fellow politicians, or just making frequent comments to the media, but the weight of his second impeachment may hinder his reputation for the remainder of his life.