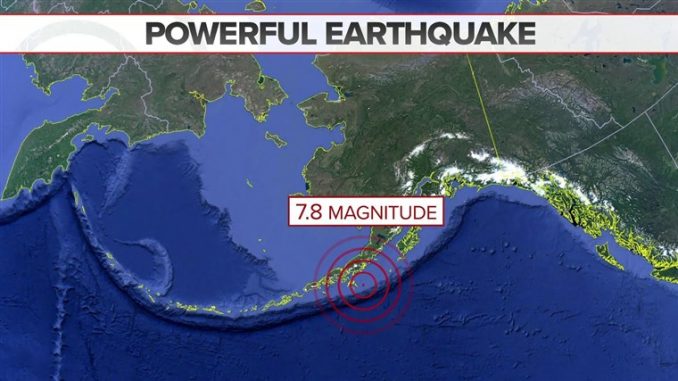 Andrew Dawson, Contributing Writer |
A 7.5 magnitude earthquake struck off the Alaska Peninsula and triggered a tsunami warning, on Monday, Oct. 19. Many schools on the peninsula evacuated with no reported damages. The warning was downgraded later in the day after smaller waves than originally reported made it to shores. The U.S. Geological Survey reported the storm hit 56 miles southeast away from the city of Sand Point.
The earthquake had a depth of 25 miles, causing 78 large aftershocks of 5.8, 5.7 and 5.2 magnitudes. The storm did not cause major damages, but it did disrupt the lives of many residents in the area. Local resident and teacher at the Sand Point School, Austin Roof, said, "The community mostly evacuated to higher ground, so it was hard to tell if a tsunami actually came. The last earthquake, there was a small, one-foot tsunami that did happen." The Sand Point School was an evacuation area for more than one thousand local residents. According to the National Tsunami Warning Center, there was a small tsunami that measured as two feet. Roof also stated, "I guess from the last earthquake we were all kind of ready for it," referring to is another major earthquake that struck Sand Point in late July. The previous earthquake was a 7.8 magnitude quake, striking 50 miles southwest of Alaska's most recent storm which occurred as an aftershock.
According to local resident David Adams, "The quake was a pretty good shaker here. It just kind of happened all of a sudden." Adams, a co-manager at a bed and breakfast told reporters that all guests were accounted for. Former mayor Candace Nielsen lives just south of Sand Point and told reporters that Monday's earthquake "felt different." Nielsen continued, "The earthquake was pretty significant. My house was rattling pretty hard." She later said, "It didn't seem as roll-y as the last one. It was kind of more of a shaker, it felt like we were on a wave. And this time, it was vibrating, roughly." Nielsen told reporters that the tsunami sirens did not go off in her area. She found out about the tsunami warning through monitoring the Tsunami Warning Center's Facebook Page.
State seismologist Mike West believes the two earthquakes are related. In Alaska, getting high magnitude earthquakes are common. West stated, "It's one of the world's most major tectonic plate boundaries, each year the Pacific Plate shoves under the North American Plate that Alaska sits on." That's one of the main reasons why Alaska gets many larger magnitude earthquakes. Alaska is a common place for bigger earthquakes because of stresses caused by the movement of the tectonic plates that make up the Earth's outer shell. In this region, the Pacific Plate steadily moves north about two inches every year, descending underneath the North American Plate.
Residents of Sand Point are happy the earthquake did not cause severe damages. While many were scared of a tsunami forming, the quake never reached that level of magnitude. Alaska's Earthquake Center took extreme caution with evacuation plans due to the potential threat of the 7.5 magnitude quake.