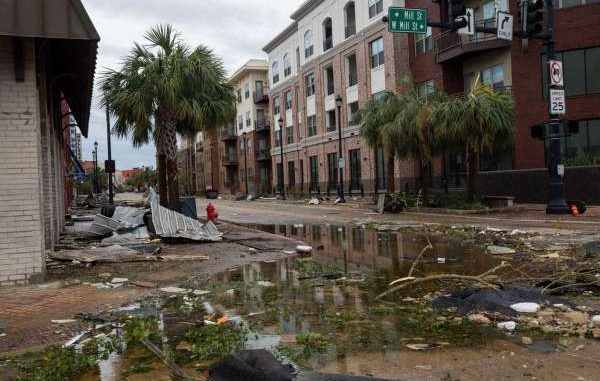 Andrew Dawson, Contributing Writer |
Hurricane Laura struck Louisiana at one in the morning on Thursday, Aug. 27. The hurricane was a category four storm, making it the biggest hurricane to hit Louisiana since 1856. The storm's winds did most of the damage, decimating parts of southern Louisiana.
The storm slammed through the state of Louisiana from South to North, obliterating everything in its path and killing 20 people. Hurricane Laura's 150 m.p.h. winds led the surge, destroying rooftops and other structures. Amongst them was an industrial chemical plant that caught on fire and released acidic smoke into the air. This led to a shelter-in-place order by the Environmental Protection Agency. The order required residents to stay inside and close all the windows and doors in their homes.
The dreadful winds from the storm knocked down trees, making them fall on roads and buildings. This caused most of the damage to homes and killed several people, including a 14-year-old girl and a 68-year-old man. One man died from drowning after the hurricane sank his boat, according to the Louisiana Health Department. Others died by carbon monoxide poisoning from improper generators.
Reports estimate the hurricane damaged an estimated 500 transmission towers, leaving over one million people in Louisiana and Texas in the dark. The storm also left 220,000 residents in Louisiana without accessible drinking water. Evacuation orders were received by nearly one and a half million people in Texas and Louisiana. Now many of them don't have homes to go back to as they were destroyed. The residents who didn't evacuate said the winds from the storm were the scariest part of the hurricane. The winds destroyed buildings, vehicles, street signs and lampposts. The damage is estimated at over 12 billion dollars.
The Federal Emergency Management Agency (FEMA) was quick to respond after Hurricane Laura made landfall. FEMA sent several teams to Louisiana and Texas to give aid and rescue. FEMA deployed regional and national Incident Management Assistance Teams (IMATs) to a widespread of locations affected by Hurricane Laura. This includes four search and rescue teams deployed in Louisiana. According to FEMA, survivors who were affected by the storm can seek assistance at DisasterAssistance.gov. This website is used for necessary expenses caused by disasters, including immediate needs such as finding shelter, medical care and house coverage.
Hurricane Laura was downgraded to a tropical depression after its previous category four classification . The tropical depression caused flash floods in Arkansas, according to the National Hurricane Center. The local and federal governments are now focusing on assisting and supporting the recovery of the people and places affected by Hurricane Laura.