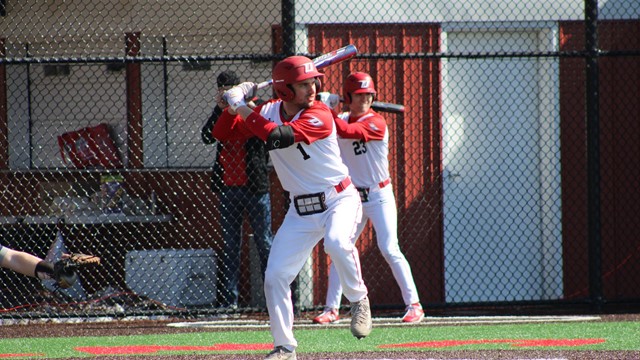 Nicholas Winograd, Contributing Writer |
SUNY Oneonta Baseball lost to Brockport by a score of 1-0 on Tuesday, Apr. 5, which left them going back home ten games under .500. On a partly cloudy day, the Red Dragons were unable to get the bats going throughout the contest with the Golden Eagles, as they were shut out by starter Matt McGowan, who went the full nine innings, striking out ten and walking none, marking the senior from Poughkeepsie's best start of the 2022 season thus far.
He was able to notch his season-high in strikeouts and innings pitched while marking his season-low for walks and hits, on 103 pitches. For the Red Dragons, it was southpaw Mike Sadowski on the bump, who looked sharp as well, going seven innings, while striking out five and allowing just one run. He threw 96 pitches and was relieved by Matt Russo, who threw a clean eighth. In the second inning, Brockport's Ryan Voight raced home after a Sadowski pitch got behind catcher Noah Frasca, which would be the go-ahead run that proved to be calamitous for the Red Dragons, as they were never able to equalize. For Brockport, leadoff hitter and second baseman James Houlahan notched a base hit, as did Ryan Mansell, the aforementioned Voight, and DH Brian Tietjen, who had a pair of singles, going two for three on the day. Tietjen lined a single to left in the second, advancing Voight, and singled off the pitcher Sadowski in the fourth. The potential run would not come around to score, however, as Ryan Mroczka lined out which ended the frame.
As for Oneonta, while unable to drive home a run, they did manage four hits, coming from corner outfielders Liam Kaseta and Michael Sabatine, who had two each. Kaseta, who now is hitting over .300 on the season, had the most offensive output on the day for Oneonta. It was his second game with two or more hits, and both have come during the month of April. The Red Dragons' best chance to score came in the top of the seventh, after Kaseta stole his first base of the year, but was thrown out at home trying to score later in the inning on a Sabatine base hit. It was Brockport center fielder Nicholas Pastore who made the run-saving throw home, which ended up being the play of the day for the Golden Eagles. McGowan put the finishing touches on his complete-game shutout by catching Red Dragons first baseman Sean Liquori looking at a called third strike to end it. With the win, Brockport moved to a consummate 17-2 record, while Oneonta dropped to 6-16, staying winless on the road.