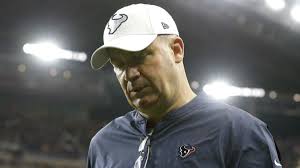 Andrew Dawson, Contributing Writer |
The Houston Texans fired head coach and general manager Bill O'Brien on Monday, Oct. 5 after starting the regular season 0-4. Texans owner Cal McNair appointed the defensive coordinator Romeo Crennel as the interim head coach. According to the National Football League's (NFL) reporter Ian Rapoport, the Texan's Vice President of football operations was not "seeing eye to eye with Bill O'Brien". After the firing, McNair stated, "On behalf of my family and our entire organization, I want to sincerely thank Bill O'Brien and his family for their impact on our franchise." McNair also said, "Bill's leadership moved our organization forward as he guided us to four American Football Conference (AFC) South Division Championships, 52 wins and multiple playoff appearances during his tenure."

Bill O'Brien served as the Texans head coach for six seasons, winning 52 total games and four division titles in the AFC South Division. O'Brien drafted several talented players including quarterback Deshaun Watson, wide receiver DeAndre Hopkins and had his defense led by two-time Defensive Player of the Year (DPOY) J.J. Watt . Though O'Brien created a winning culture and a talented team, he was never able to get past the second round in the playoffs. In 2019, the Texans faced off against the heavily favored Kansas City Chiefs in the divisional round of the playoffs. The Texans led the game by a score of 24 to 7 late in the second quarter but were outscored in the second half, leading to a 52 to 31 win for the Chiefs.

In the offseason, fans were wondering what moves Bill O'Brien would make to help improve their team to win championships. O'Brien traded star wide receiver DeAndre Hopkins to the Arizona Cardinals for running back David Johnson. He thought the trade would improve their running game, but critics disagreed because they gave up one of the NFL'sbest wide receivers. Fans were outraged and wanted the McNair family to fire O'Brien after this offseason move. O'Brien then traded for wide receiver Brandon Cooks from the Los Angeles Rams to help bolster their passing game.

The offseason acquisitions didn't help them at the start of the NFL 2020 regular season. The Texans lost their first game of the season to the Kansas City Chiefs by a score of 34 to 20 but their struggles didn't stop there as they dropped the next three games to the Baltimore Ravens, Pittsburg Steelers and Minnesota Vikings. They failed to score more than 23 points in any of these games and ranked last in rushing yards, leading to their worst start of a season since 2008.

It is unclear if interim head coach Romeo Crennel will become the next head coach for the Houston Texans. The McNair family did not make any decisions on the next head coach or general manager but will later on in the season. Owner Cal McNair thanked Bill O'Brien for leading his team to the playoffs in four out of the last six seasons and stated, "Bill proved himself as a coach and leader in this league." It is currently unclear if O'Brien will continue coaching in the NFL.