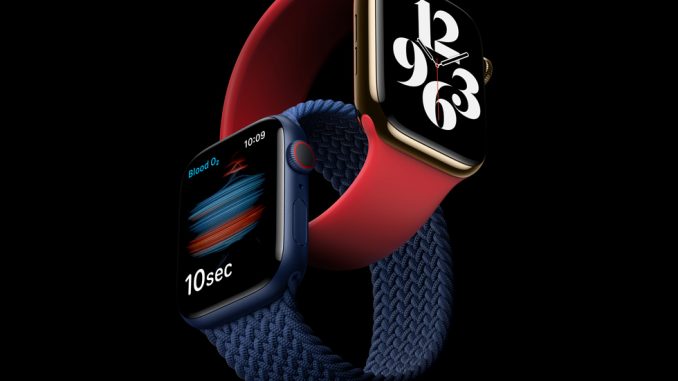 Andrew Dawson, Contributing Writer |
Apple recently announced its Apple Watch Series 6 and Apple Watch SE, both of which will be released on Sept. 18. The announcement from Apple was made at a live show event on Sept.15. Both watches became available for pre-order the same day. The Apple Watch Series 6 has a starting price of 399 dollars in the U.S and the U.K. The Watch SE starting price is at lower cost valuing at 279 dollars. Apple also announced the Watch Series 3 will still be available in stores.
Apple's main objective was to focus on new personalization options for customers. Although both watches follow the same design as the Apple Watch Series 5, the company made new improvements including a wide selection of colors to choose from and different types of straps. These watches offer three new band styles to provide a comfortable fit for customers, adding a solo loop and a braided loop strap that require no pins or buckles. Apple brought personalization to the next level adding seven new watch face options including stripes. The Apple Watch SE only comes in the aluminum finish option, but the Apple Watch Series 6 comes in a variety of different options. These options include aluminum, titanium and stainless steel. There are Nike models of the Apple Watch Series 6 as well.
The Series 6 watch fixed many of the problems that the Series 5 watch faced. The new model has faster charging, taking only an hour and a half to fully charge. When it is fully charged, the battery is estimated to last up to 18 hours long. Apple created the Series 6 watch to run even faster than its predecessor. The watch has a new dual processor and is said to be twenty percent faster than the Series 5 watch. Apple also improved on the brightness of their watch, estimated to be two and a half times brighter than the Apple Watch Series 5.
The Apple Watch Series 6 and the Apple Watch SE run on a newly launched WatchOS 7 software that adds new features that Apple watches have never seen before. These features include silent alarms, sleep tracking, tracking dance workout, customizable and shareable watch faces. Customers were frustrated that watches didn't count dance as a workout, so Apple now offers dancing as a specific workout. Apple also made improvements to Siri, now offering language translation. Apple is trying to headline it as the key motivation to buy the latest version of their watches by showing how Siri's language translation works on the commercials for their new watches.
The WatchOS 7 software also offers a blood oxygen sensor, Apple's most featured improvement on their device. For the sensor to work, make sure the device is secure on your wrist and try not to move it. If you meet the requirements then the results should come in 15 seconds. The sensor will report back the number but does not give a description of what the number means for your health. Apple wants to ensure that its watches are not used as a medical device so customers don't rely on their watch instead of a pulse oximeter, which requires federal approval.
One of the customers' favorite new feature is the handwashing countdown to help you properly wash your hands for the recommended amount of time. Apple added this feature to ensure people are washing their hands properly to eliminate germs. They believe this feature is more important now than ever due to the COVID-19 pandemic.
Both the Series 6 and the Watch SE are 40mm to 44mm, offering a variety of different sizes for customers to choose from. Apple believes doing this will help customers get a perfectly fit watch. Both the Apple Watch Series 6 and Apple Watch SE are currently in stores, so you can get yours today.