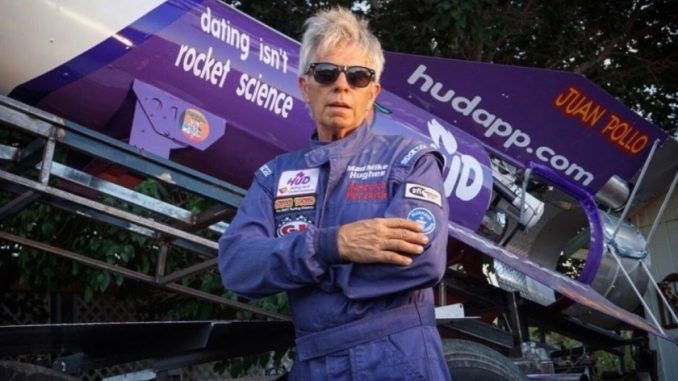 Andrew Dawson, Contributing Writer |
Daredevil Michael Hughes, otherwise known as "Mad Mike," tragically died at 64 on Feb. 22. Mad Mike died during a launch in his homemade rocket while trying to prove that the Earth is flat.
Mad Mike spent several months trying to build his homemade rockets so he could perform his own stunts. Ever since Mike was little, he enjoyed living on the edge. In his early childhood, Mike decided to race motorcycles. He enjoyed the excitement and feeling of adrenaline rushing through his body as he performed these life-threatening events. When Mike grew up, his interests became more extreme― from racing motorcycles to flying in homemade rockets.
Mad Mike's first known launch in his homemade rocket happened in 2018. The launch was performed in the Mojave Desert of California. The flight was measured to be 1,875 feet in the air, reaching the anticipated distance and being deemed a success. The daredevil enjoyed the flight, but Hughes had a hard landing and broke a vertebra in his back. The landing hospitalized Mike several days and forced him into a wheelchair for multiple weeks. Although the stunt injured Mike, he wasn't ready to give up. He still loved the thrill of performing deadly stunts.
Mad Mike planned his next stunt for Feb. 22 of 2020. Unfortunately, this would be his last. Mike died while attempting to launch five thousand feet in the air in Barstow, California. When he launched, his rocket hit a steel ladder that was designed to help release the rocket. The impact caused the parachute to deploy early, making the rocket go off its trajectory. Shortly after, the parachute-less steam rocket crashed, killing Mad Mike. According to the two witnesses, the rocket crashed at approximately 1:52 p.m., a minute after he launched. This launch was going to be a stunt for an upcoming Science Channel television series called "Homemade Astronauts."
There are countless rumors for why he did his stunts. Some believe he did it to prove the Earth is flat due to his love of conspiracy theories. Others believe he just wanted to be a daredevil and loved the thrill of it. Both answers have truth, but they are not the main reason he decided to fly. Mike wanted to be viewed as an inspiration to men, women and children. He wanted to prove to people that even though your dreams may be crazy, you should always follow them.