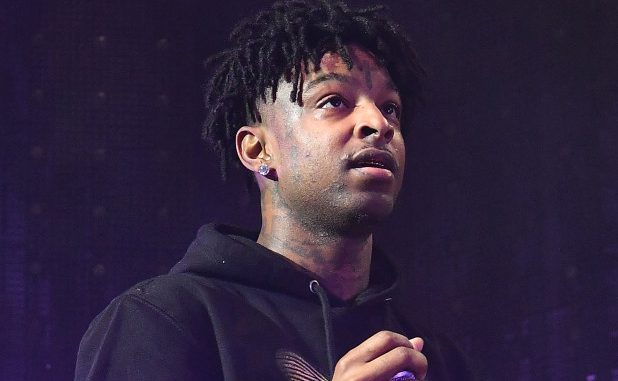 Katie Hebert, Staff Writer |
In the current political climate, immigration is a topic that is heavily discussed and debated, and one that is presented through a very negative lens from our current administration. The United States Immigration and Customs Enforcement Agency (ICE) has made other national headlines including separating families in detainment. As immigration continues to be at the forefront of many political issues, the conversation continues when rapper 21 Savage was detained by ICE for overstaying his visa, which expired 13 years ago.
21 Savage, who was born in the United Kingdom as Shayaa Bin Abraham-Joseph, was arrested last week by ICE. While rapping about Atlanta roots, he arrived in the U.S. from the U.K legally in 2005, and has overstayed a non-immigrant visa, which expired in 2006. Because he arrived in the United States at the age of 7, Abraham-Joseph's attorney said that his visa expired "to no fault of his own," continued, "Mr. Abraham-Joseph, like almost two million of his immigrant child peers, was left without immigration status as a young child with no way to fix his immigration status," he continued.
The rapper has been awaiting approval of a U-Visa, which he applied for in 2017. CNN reports state that   this U-Visa "has relief from removal available to him," and the visa was applied for "four years after the rapper reportedly was shot six times during an incident in which his friend died." This particular type of visa, as CNN defines, "is available to those who have been the victims of a crime in the United States, have suffered physical or mental injury as a result of a crime and who are helpful to law enforcement or government officials in the investigation or prosecution of criminal activity."
21 Savage's lawyer told MSNBC that "'The only reason ICE can detain somebody is if he's a flight risk, which he clearly is not." Despite having charges against him regarding drugs in the past, People Magazine shares that "his legal team went on to argue 21 Savage 'has no criminal convictions or charges under state or federal law and is free to seek relief from removal in immigration court.'" ICE has not charged the rapper with any crimes. 21 Savage's mother is a legal permanent resident of the United States, along with his four siblings who are either permanent residents or U.S. citizens. He also has three children, all of whom are US citizens.
Conservative talk show host Tomi Lahren, who is known for stirring the pot of politics, tweeted, "I got one, two, three, four, five, six, seven, eight ICE agents ready to deport ya," playing on 21 Savage's lyrics from his song "Bank Account," mocking his citizenship status and current detainment. Rapper Cardi B, who has collaborated with 21 Savage in the past, responded to Lahren saying, ""Don't make me get my leash," in reference to a previous political twitter argument where Cardi B told Lahren, "I will dog walk you."
Organizers supporting 21 Savage created multiple petitions to release the rapper with 450,000 signatures, along with an appointment they made with authorities from ICE, although those petitions were completely ignored. On Twitter, the hashtag #Free21Savage has been circulating, with people like @osopepatrisse writing, "We stand up for @21Savage as we do all our loved ones undocumented and in detention. Black undocumented communities are out here and us Black Americans must stand up for All Black Lives! #Free21Savage." Attached to the tweet was a picture of a billboard of the rapper with a text code to sign a petition to release him from ICE Custody, along with "Black Lives Matter" in bold lettering. Other people have tweeted similarly, promoting different rallies in support of #Free21Savage and in resistance to ICE and the current political state towards immigration.