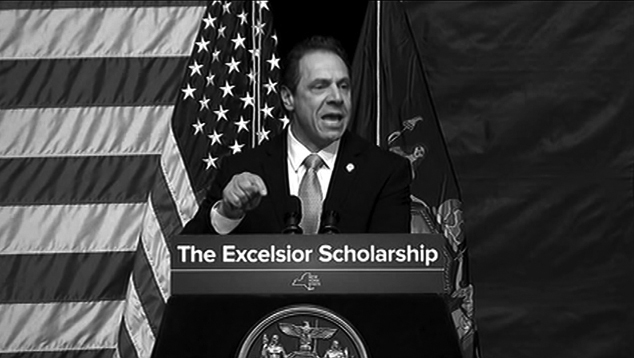 Michelle Barbero, Staff Writer |
On February 7, Governor Cuomo united with around 600 supporters at Buffalo State College to begin his Excelsior Scholarship campaign. SUNY and CUNY students all over the state should be on the lookout for the Governor as he tours campuses to promote the importance of receiving a higher education and to work towards his goal of making state college tuition free for New York families in need.
According to a recent press release, the plan would ensure that state college tuition is free for families with an income of up to $125,000 per year.  The Governor shared that 940,000 families would qualify for free tuition. The only requirement, besides making up to $125,000 per year, is that students must be enrolled full-time in a SUNY or CUNY two or four-year college.
The Excelsior Scholarship would become effective over the course of three years, increasing annually. Starting Fall 2017, it would affect New Yorkers making $100,000 per year. In 2018, this would be extended to people with an income of $110,000 per year and finally people making $125,000 per year would be covered in 2019.
Governor Cuomo is determined to get this plan in motion to not only motivate students to receive a higher education, but to also allow students to complete their degrees on time. In addition, he has observed that economic problems have been holding too many New Yorkers back from earning degrees that are essential to receiving high paying jobs. It is predicted that by 2024, 3.5 million jobs in New York will require an Associate's degree or higher. Adults without degrees will fall behind in today's economy.
Another important part of the program is a provision that allows students to put the program on pause and restart it if they cannot complete college in a consecutive two or four year block due to personal reasons.
Looking out for the students and New York's economy, Governor Cuomo stated, "In New York, education was always the great equalizer, but today far too many young people have been deprived of the advanced degree they need to get ahead, compete in the global economy, and secure the jobs of tomorrow."
He pointed out that New York will be the very first state in the U.S. to offer free tuition to middle class families. New York would act as an example for other states to follow, moving the entire nation's economy in a better direction.
According to the plan, the program will work alongside existing programs to cover tuition costs. New York's $1 billion Tuition Assistance Program will work with federal grant funding, which is why Cuomo's plan will only cost $163 million per year. Even though New York private colleges are not included in this plan, Cuomo has not forgotten about these institutions. Today, the state awards grants to about 90,000 private college students.
As people who will be directly impacted by the Excelsior Scholarship, SUNY Oneonta students wonder how their tuition will be affected this upcoming fall.
Freshman Kaitlin Finnegan said, "Students who are already enrolled in SUNY schools and that are currently paying tuition are going to be at a disadvantage in the future compared to incoming students who won't have to pay tuition at all."
With future SUNY students in mind, people are also beginning to wonder if the lack of tuition costs will cause colleges' acceptance rates to decrease because of an increase in applicants/competition. Families consisting of state school students and future state school students across New York can't wait to find out if and how they will be effected by the Excelsior Scholarship.