Sam Shereck, Staff Writer
Horrendous is a progressive band in the truest sense of the word. While they do exhibit some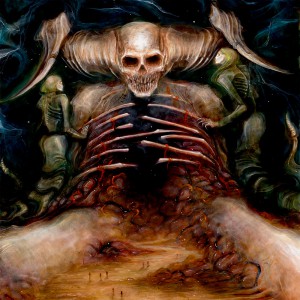 leaning towards progressive rock in their sound, I am not referring to their genre when I call them progressive. They do what so many bands fail to do nowadays: progress and evolve. The three piece death metal outfit started in 2009, when the members attended the University of South Carolina, with their demo entitled Sweet Blasphemies. The demo was rife with the tasty licks that fans of Sweden's death metal titans such as Entombed, Dismember, and Grave would salivate over. Right off the bat, the band established themselves as a legitimate underground force, employing clever songwriting and a production style that is more common for an album release rather than a demo. This is thanks to guitarist/vocalist Damian Herring handling the production at his studio Subterranean Watchtower (he has gone on to produce every release since).
Six years and three albums later, we are presented with Anareta. Released on the underground Colorado label Dark Descent Records only a year after their previous sophomore opus Ecdysis, fans were wondering how they were going to top such an acclaimed album. Ecdysis was a game changer in the books of many listeners. It kept the gritty Swedish styled sound of Sweet Blasphemies and their first full-length The Chills, but eschewed itself of the trappings of revivalism. Many bands in metal, punk, and rock are content to continue a sound that was started decades ago and not tweak the formula much. This is fine because many bands do this well. On Anareta, Horrendous takes the groundwork laid by the bands of death metal's past and themselves. Instead of looking outside for more inspiration, it seems Horrendous has looked inward more with every release.
Does it hold up? The answer is a thousand times over yes. If Ecdysis was Horrendous shedding their skin as a "throwback" band, then Anareta is the band spreading their illuminated wings for the world to see and feast their eyes and ears upon. Even the most jaded of metal listeners has a wealth of new ideas to sink their teeth into on this record. Horrendous has become a "throwback" in a different sense. Instead of emulating sounds of the past, Horrendous has channeled the creative spirit of forward thinking bands like Death, Cynic, Morbid Angel, and At The Gates.
The record kicks off with "The Nihilist", which starts in similar fashion to "Blackened", the first track on Metallica's … And Justice For All with a back masked anthemic guitar before it all erupts into Swedish death metal mayhem. The song evolves by peppering in some unique chordal flourishes. "The Nihilist" picks up right where Ecdysis leaves. The deeper you dig into the album, the more sonic evolutions you will notice. The second track "Ozymandias" shows a new style of odd-timed riffing not previously explored much by Horrendous. It is also the longest track Horrendous has created since "The Eye Of Madness" on their first record The Chills. There are many surprises to be heard throughout the record, whether your only experience with metal is hearing "Crazy Train" in Guitar Hero or you own all of Demilich's demo tapes. "Stillborn Gods" at track seven is probably the catchiest, most accessible tune Horrendous has ever written with riffs that channel the spirit of Randy Rhoads, Hank Shermann, and KK Downing in all the of 80's New Wave of British Heavy Metal and hard rock glory. This track is sandwiched between two of Horrendous' most harrowing and melancholic songs in "Sum Of All Failures" and "The Solipsists (Mirrors Gaze)". The former is a lightning fast ripper of Swedish black and death metal in the vein of Dissection and Necrophobic. The latter, the closing track, is a slow dirge of melodic gloom that will leave the listeners wanting the spin to album all over again.
Anareta is an expansive, rocking, dynamic opus of metal. Similar to a band like The Black Dahlia Murder, Horrendous' music has the power to transcend the underground. They would fit just as well on a bill with Judas Priest, Iron Maiden, or Metallica as they would on a bill with Gatecreeper, Autopsy, or Pissgrave. In a sea of old school revivalist death metal, Horrendous led the pack of forward-thinking bands along with Sweden's Tribulation, Norway's Obliteration, and New York's Artificial Brain. Don't let Horrendous fly under your radar. Buy this album!